2017 Is A New Beginning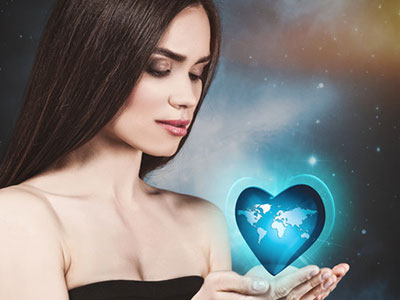 So many things happened in 2016 on a global scale that influenced the global conversation. This makes a lot of sense when you consider the Numerological implications of the year 2016.
Last year was governed by the number 9.
2+0+1+6=9
There are other year formats in many countries, but for the Western world, the numerological influence of 9 was certainly present. The number nine is ultimately a good number. It is associated with the beginning phases of manifestation, where thoughts become form, as seen in the tradition of the Tarot. It is the consciousness we need to become creators on a personal level, as well as on a global scale.
In 2016 the global conversation and consciousness has changed slightly because of this 9 influence. There were changes politically and socially that have caused many people to take a second look at their own lives and their contributions to our society.
As we grow in our consciousness, there will be more compassion and more love, and then the barriers between people, between religions, between nations will begin to fall ~ Ram Dass
Forgiveness is also a trend that is associated with the number 9. Many spiritual traditions see the number 9 as acceptance of universal love, harmony, and peace. Forgiveness is a key tool that we can use to move into a more positive manifestation process, because forgiveness is the spiritual tool that allows us to see and create through the eyes of love and reconciliation.
Since we are now moving out of the influence of the number nine it begs the question, "What are we moving into?"
2+0+1+7=10
The number ten can be reduced to its simpler form, 1+0=1.
Both numbers are the results of the changes in consciousness that are associated with the number 9. Ten is 1 and 0. The number 1 represents a new beginning. Zero represents the limitless nature of our own creative power and the limitless creative power of the Universe.
In 2017, our thoughts and beliefs will manifest very quickly into form. It is a time for new things to be brought into this planet through all of us. As we are in the earlier stages of 2017, Spirit indicates that right now is an integral time to do a life review. We are all still carrying the energy of 2016, meaning that we all have the capability of releasing and gaining that new conscious perspective.
Right now, it is very important for us to sort out the details and let go of the things that no longer serve us. I am not a huge fan of new year's resolutions, but if you were ever going to make a resolution to change, now is the time, since we are letting go of the old and opening to the new.
Mercury has also been in retrograde and will remain in retrograde until the 9th of January. Many people fear this time, but Spirit has shown me that Mercury in retrograde is like an 'astrological detox.' It is when the Universe allows us to see our own conflicted viewpoints so we can reconcile them. It is the grace of the Universe that gives us these times to bring us back into alignment with what is truly important in each of our hearts… love.
The biggest breakthroughs in consciousness occur when things are difficult; when we have a choice to fall to the worst of ourselves or rise to the best of ourselves ~ Yehuda Berg
Set clear intentions for 2017. Spirit has shown me that intention manifests very quickly this year, so this is the year to keep a clear head and to engage in loving ways with others.  If you find that you have been manifesting out of frustrations or fear, quickly move back into a state of love within yourself and forgive yourself. This will allow whatever has been brought into form by experience to dissipate quickly.
Prayer for 2017
Holy Mother and Father God, Pure Light and Love of the Universe,
I ask that you reveal any area within me that is motivated by any force contrary to love. I surrender these things to you with the willingness to change. I confess that I do not know how to change, but I am confident that you will bring about the methods needed to facilitate change. I allow your angels to lift these burdens from my heart and replace them with Divine peace and serenity.
I also ask that you give me Divine vision and purpose for this year.  Allow true love, true prosperity, and true purpose guide my steps.
I ask this all with love and infinite gratitude. 
Amen. And so it is.
About The Author: Cosmic Coach

Cosmic Coach (James) has mastered many techniques in his psychic practice to connect with the unique heart center of each of his clients. He is a Reiki Master of many traditions, who is adept at crystal healing, card readings, and delivering detailed messages from Angels and Guides. A Christian Minister, a teacher and an Energy Guide, living in Michigan, James is always expanding the base of his knowledge to broaden his reach and serve as many clients as possible. To experience a unique reading personally designed for you, you can find Cosmic Coach at PsychicAccess.com.