Faith In Faith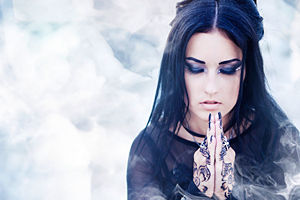 George Michael sang about it, prayers have been written about it, songs have been sung about it… and yet it remains a mystery to so many. So, I put forth this question to you: what is faith and where does it come from?
Right now there is either silence on your end, or a rapid fire response. Or maybe you are saying, "Well, let me think about it."
They say faith moves mountains, but then that begs the question: do you have Faith in faith? That's a different concept altogether – one that must be looked at.
It's easy to go to your preferred place of worship on Saturday, Sunday, or Monday, or whenever it is that you attend. Lovely. Absolutely. Without a doubt. There you show your faith. But what happens the rest of the week? This is where Faith in Faith comes into play, and without it you don't even get to pass go.
All I have seen teaches me to trust the Creator for all I have not seen ~ Ralph Waldo Emerson
Faith in faith means: I honor honor. Faith in faith means: I don't know how it is going to happen, but I know that what needs to happen will happen, and so I am not going worry about it anymore. This is action, this is demonstrating faith in faith.
It's not about religion, God, Allah, Jesus, Mary or Joseph. It's about action. Faith is literally going out on a limb, like The Fool card in the Tarot, willing to take a chance just because he must. It's about going to speak before whichever God or entity you hold dear, and then releasing that passion so it may be fulfilled.
I leave you with a poem, one that was written 'through' me many years ago. It's called "Who is the Man."
Who is the man
that says,
Sunday is the Lord's Day?
Does this mean
you can hurt on Tuesday?
Cry on a Thursday morning?
Who is this man
that can build compartments for his life
only letting in the Spirit
only a Sunday
never on any other day.
Who is this man
that I created in my Image
But who doesn't wish to look like me
So he wears masks during the week
but never on a Sunday
for Sunday, after all,
is the Lord's Day.

About The Author: Asherah

Asherah is a natural born psychic empath born and raised in Kingston Jamaica. An ordained Reverend and High Priestess, Asherah can easily tap into your real truth and help you to see clearly, releasing attachment to outcome by simply focusing on where you are now. Using tarot, numerology astrology and more..you can learn how to communicate your needs today! You can get a psychic reading from Asherah at PsychicAccess.com.