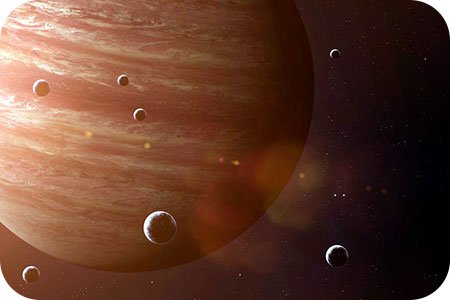 Astrological energy influences can be both positive and negative. Some can interfere with minor things, like a cellphone malfunctioning, while others can be as major as someone losing their job. It feel it is most important for us to be as educated as possible about these major influences. How can we work with these energies for the best outcome? What do we need to know here and now?
Jupiter moving into Sagittarius, for example, is a major energy that will last over a year long. This can be a majorly beneficial energy, if you know how to work with it.
In the month of November, Jupiter moved direct and transitioned in to the sign of Sagittarius. Jupiter's home sign, and most comfortable sign, is in fact Sagittarius. He rules it. This transition happened on November 9th and the planet will remain in Sagittarius for the next year, until December 2019.
Jupiter is a masculine planet. He is a planet of abundance, expansion, blessings and growth. Jupiter is the first of the social planets and he values knowledge. Many astrologers refer to him as the Great Beneficent. That means this planet typically brings great benefits, or bountiful good luck. I say 'typically,' because like any planet in your chart, it truly depends on where Jupiter lands in your individual chart. Jupiter is in a different position for each one of us.
Jupiter takes everything and fills it, expands it, makes it larger. Jupiter also rules the 11th House, thus he can connect you to people who can help your hopes, wishes and dreams at the right time. Jupiter's goal is to bring in enlightenment, growth, and abundance. Continue reading →