A Little Bird's Message Of Gratitude
Published
July 12, 2016
|
By
Shani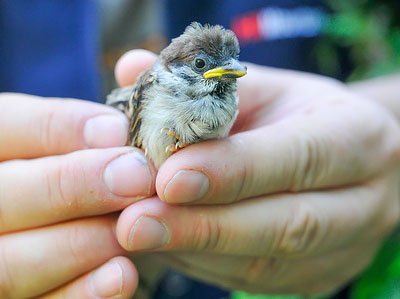 Today, I drove into our small Spanish town to run a few errands and, for some reason, which I now feel could have been 'guided', I parked much further away from the center of town than was actually necessary.
Shortly after parking, then crossing the street, I found a young bird on the ground, which I thought, at first, had flown into a wall and injured itself. Rather than risk driving it home and traumatizing it further, I scooped it up. It appeared to be quite at ease perched on my hand on our fast walk to the vet, Salvador, whose office was just ten minutes away.
I felt strongly that this little bird had a spiritual message for me. As soon as I walked into Salvador's practice, he smiled and said, "Very common this time of year. He is just getting his young flying practice and needs us to help give him a lift into flight from a height." He offered to take him home, during his approaching siesta (afternoon recess) and to set him free from a hilltop.
Acknowledging the good that you already have in your life is the foundation for all abundance ~ Eckhart Tolle
I texted Salvador later in the day, hoping to get a response the tiny bird had survived, but his message was, "Ya, esta  volando!" (It is already in flight). Those words were like music to my ears and I felt elated. Such small things can be so meaningful, and I was really grateful that I listened to my hunch about parking in an unusual place.
The incident reminded me of the words said by Rose, many years ago. Rose was a gentle, dedicated vet who did rescue work in the poverty-stricken townships in South Africa. I applauded her for what she was doing, and she simply responded, "If I can just make a difference to one animal, then it's all worth it."
I was grateful that I found myself in a position to help that little creature this morning. He reminded me how it feels to have an 'attitude of gratitude' – something that is often instilled in us recovering alcoholics with the 12-step program of Alcoholics Anonymous (AA). The outward manifestations that come to us, as we engage in the process of expressing gratitude, bring a sense of peacefulness and security. Expressing gratitude, and perhaps making a list of all the things we have to be grateful for, extinguishes the more mundane issues we deal with, as well as any negativity we are exposed to around us on a daily basis.
Some people grumble that roses have thorns; I am grateful that thorns have roses ~ Alphonse Karr
This occurrence also reminded me of how the little things in life can mean so much, leading me to be grateful for some other pleasant things which happened today. My husband bought me some flowers! And the notification I had received to collect a letter at the post office wasn't the dreaded insurance dispute, but rather a certification that my pets were all registered legally on the system in the town we live. Furthermore, my oldest cat came home after an out-of-character act of roaming on the adjacent property for half the day. I am grateful.
Just the sound of my Husky snoring contentedly next to me, as I am writing this blog post, brings me such joy. Some people could just as easily have considered it weird, or even irritating. I choose my cup to be half full, rather than half empty. It simplifies everything and all the good things that happen become a bonus.

About The Author: Shani

Shani is a qualified practitioner in Reiki, aromatherapy, reflexology, body spin, and animal telepathy who received psychic development training at the Arthur Findlay College of Psychic Research in England. A published writer, her articles and predictions have appeared in several respected magazines and on psychic websites, and she has read for many celebrities and even heads of state in Africa. Though she was born in London, Shani has traveled the globe and has studied the art of African Mysticism, bringing her unique flavor to those seeking her incredible talents. Get a reading with Shani at PsychicAccess.com.


Posted in

Conscious Creation, Life Design, Spirituality
|
Tagged

addiction, animal communication, animal medicine, animals, appreciation, awareness, blessings, gratitude, happiness, Healing, inner guidance, Intuition, joy, Life Design, life lessons, signs, spiritual awareness, spiritual messages, synchronicity
3 Responses to A Little Bird's Message Of Gratitude
This site uses Akismet to reduce spam. Learn how your comment data is processed.