realm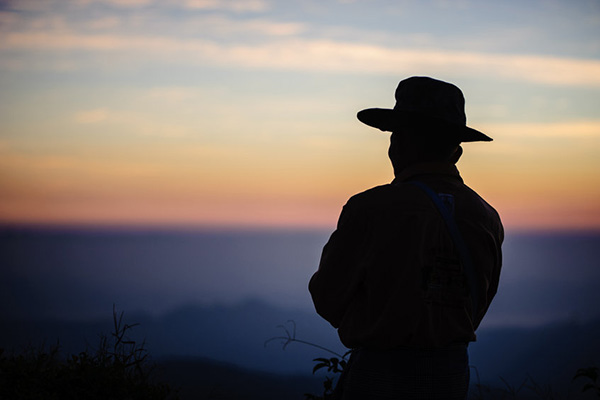 When I first moved to Santa Fe, New Mexico, I lived in one of the three old stage coach depots located here. The two others were owned by Burl Ives and the French Consulate, respectively.  I can't speak for those, but I can tell you about my experiences in the one where I lived.
I lived there for five years and it was totally charming. It had been designated as a guest house on the property, next to the main house. It was built with grey native stone and it looked like a painting by Currier and Ives. The perfect Santa Fe retreat, right? Or, anywhere, for that matter!
But a 'caretaker' came along with the place, although I did not know that until after I moved in.
The first fine morning at 4:00 a.m. he announced his presence, although I would soon learn that his appearances were anything but rare. This particular morning, I noticed that the lamp in the living room was flickering a bit. As I had been traveling extensively, I was on Australian time and, fortunately, felt quite alert at 4:00 a.m.
I, promptly, began to investigate. Wondering about the condition of the electrical current, since the house was such an old structure. I turned on other lights to see if they would also flicker. They didn't, so I checked the relatively new lamp.
Jiggling it, shaking it and using various, and assorted other manipulations, to make it flicker, didn't do the trick. Hmmm, I thought. Is this possibly an otherworldly entity? I was soon to find out that, indeed, it was not of this dimension, when for several consecutive mornings at the same time, 4:00 a.m., the same lamp would flicker a few times.
Finally, I introduced myself, and the lamp flickered! The lamp was in the front window next to my wingback chair. And, then, I was having a conversation with my chair. It went something like this, "Well, you seem quite benevolent, but what are you doing here?"  The lamp flickered again. Although I could feel a presence, I had no fear. So, I became bolder. I asked, "Do you live here?"  Again the lamp flickered. Finally, in exasperation, I said "Well, for now I guess you can stay, but you eventually need to move on. Oh, and don't bring any of your friends here."
Posted in

Afterlife, Mediumship, Paranormal Phenomena, Psychic Phenomena
|
Tagged

apparition, communication, crossing over, death, entities, ghost, ghost whisperer, ghosts, haunted, haunting, intelligent haunting, mediumship, paranormal, paranormal investigation, paranormal phenomena, poltergeist, realm, residual haunting, spirit attachment, spirit contact, spirit encounter, spirit realm, spiritual messages, spiritualism, suicide, supernatural, the other side, visitations
|
Leave a comment