Astrology Forecast October 18 – 24, 2021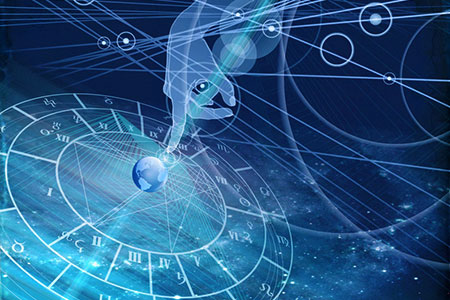 Mercury will resume forward motion today, but because it takes another week or two to get out of the retrograde shadow period, don't assume we're out of the woods yet! Continue to back up all your computer work and digital devices; take everything you hear with a grain of salt; tale extra care if you have to travel; and expect the unexpected until the retrograde after effects completely clears.
We have a lovely Aries Full Moon coming up on Wednesday, also called the Hunter's Moon, which will generate a confidence in our  skills and abilities, energetic vitality, mental sharpness, and sense of financial security. It is also a good time to be assertive and take on difficult challenges. Having what we need, as well as receiving something we want, are further positive aspects of this Moon. The restrictions we've faced over the past 18 months will now culminate in some solid solutions and relief.
Beware the Taurus Moon square Jupiter in Aquarius on Friday, because there is a risk of conflict and drama in romantic relationships. The Taurus Moon trine Pluto in Capricorn later in the day could also cause us to be emotionally selfish and restless, which could get us into trouble  if we act impulsively on our sudden urge for adventure and excitement.
The Sun will enter karmic Scorpio between late Friday and early Saturday morning, which will shift our focus to the possibilities that await us. For the next four weeks, we will feel more in tune with spirit and our divine destiny, releasing the things that no longer serve us and embracing the true wonder of our lives. This is also a time when the veil between this world and the next is at its thinnest, and we can more easily receive messages and guidance from our loved ones on the other side.
With the Moon traveling through Gemini this weekend, it could be an ideal time to try your hand at a channeling session, or connect with someone who can translate important messages from the spirit world for you.

About The Author: Susyn

Susyn lives in New Mexico, and offers Psychic Guidance, Astrological Insights and Channeled Messages that will change your life! Her credentials are top-notch and include a doctorate in metaphysical studies and certifications from The American Association of Professional Psychics and The American Tarot Guild. She's also a published author, with two metaphysical books under her belt, and has authored numerous articles and horoscope columns. In addition to her readings, Susyn is also a mentoring practitioner who teaches others how to master their own gifts, raise their vibrations, and empower themselves. A sought after guest on numerous radio programs, she has also hosted her own radio show. If you're looking for one of the truly bright shining stars who can also read them with an accuracy that will astound, look no further. You can find Susyn at PsychicAccess.com.