Astrology Forecast August 16 – 22, 2021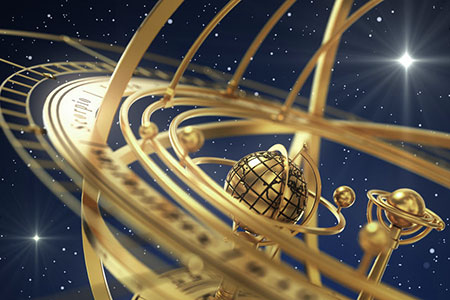 A sense of peace and balance emerges in the heavens this week, as Venus, Mercury, the Sun, and Neptune all travel through their home signs generating the message that all is right with the world.
The week starts off on a lighter note under today and tomorrow's Sagittarius Moon. However, focus on staying centered an grounded today as a Sagittarius Moon square Mars in Virgo may cause to be unusually agitated or impulsive, and there is also the possibility of getting into an unwanted argument with your significant other.  Do not take the bait and keep your cool!
When the Moon moves into Capricorn on Wednesday, our productive sides will emerge and have us making up for lost time before the weekend arrives.
Uranus will be slowing to go retrograde on Thursday, but its effects will be so subtle we may not even notice. This planet will travel backward for the net five months, not resuming forward motion until mid-January of next year. This energy gives us the chance to go back and do things differently, revise our plans and ideas, and to realize the bigger picture Spirit is painting for us.
Friday and Saturday the Moon will travel through Aquarius, bringing out our social and humanitarian sides. This is a great time to reach out to friends and family to see how they are doing and make sure they have everything they need.
Two major events occur on Sunday, starting with the second Aquarius Full Moon of the year (the last one was in July), followed by the Sun's entry into Virgo. A Virgo Sun helps us prepare to move into a new season, as it inspires us to organize, recommit to a schedule and pay closer attention to the details of our lives. For the next four weeks, we'll find ourselves drawn to a more orderly and balanced way of living, and as we take stock of the things we are preparing to harvest after a long season, our gratitude levels and sense of accomplishment will become apparent.

About The Author: Susyn

Susyn lives in New Mexico, and offers Psychic Guidance, Astrological Insights and Channeled Messages that will change your life! Her credentials are top-notch and include a doctorate in metaphysical studies and certifications from The American Association of Professional Psychics and The American Tarot Guild. She's also a published author, with two metaphysical books under her belt, and has authored numerous articles and horoscope columns. In addition to her readings, Susyn is also a mentoring practitioner who teaches others how to master their own gifts, raise their vibrations, and empower themselves. A sought after guest on numerous radio programs, she has also hosted her own radio show. If you're looking for one of the truly bright shining stars who can also read them with an accuracy that will astound, look no further. You can find Susyn at PsychicAccess.com.