A Letter To My Beloved Dog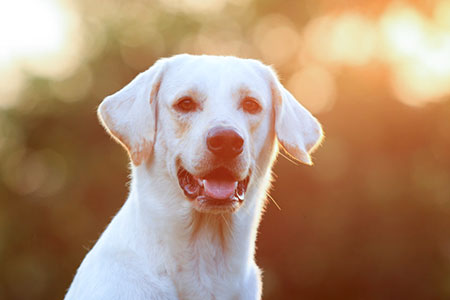 Precious Elizabeth, it has been nearly two and a half years since you left your physical vessel to live in another dimension. I know you didn't want to go and held on long past your time – selflessly, because you had such an enormous love for me that you didn't want to leave me.
Always my protector, I know you couldn't imagine that anyone other than you could be as fearless and courageous as you were during all those heartfelt times, throughout the 16 years you took care of me. I adored you and you showed your love every day in countless ways. No matter what you were doing, you always dropped everything, anytime I asked you to come to me.
Well, all but that one time!
We were rocking in the willow chairs on the far end of the portico. It was late in the afternoon, on a perfect spring day. I was relaxing in my chair, and you were asleep in your rocking chair next to mine. A big, brown bear then decided to sniff out the contents of the garbage bin at the other end of the portico. Before I had even spotted the bear, you had already leaped from your chair, apparently having smelled the enormous varmint's odor. You flew at him as if you had wings, in order to chase him away – so protective of me you were.
A dog is the only thing on earth that loves you more than he loves himself ~ Josh Billings
In spite of hearing my frantic calls to "come", you were insistent on getting the poor ole bear off our property, and in no uncertain terms. Although it seemed to me as if he was moving in slow motion, while you nipped his buttocks as he swung his huge hairy arms behind him trying to shake you off, you hung onto him like there was no tomorrow – all eleven pounds of you!
He was squealing so loud that, between his screams and my hysteria, we must have created quite a ruckus. In fact, our nearest neighbors came running, fearing the worst. About that time, ole brown bear had reached the other side of our narrow little dirt lane and you came back as if to say, "Well, I took care of that and now my mom is safe from big, frightening, hairy critters."
I was just so glad you were safe, that all I could do was hold you tight, expressing my gratitude for your care of me. And, for the record, our neighbors said they had never imagined a bear could run that fast. My perception of slow motion was apparently the kind that occurs when one is in great fear, for surely I was terrified for your safety.
The dog is a gentleman; I hope to go to his heaven not man's ~ Mark Twain
Due to the time that has passed, some of my memories of you, dear Elizabeth, are fading. I don't want them to become vague, so I try perhaps too hard to hold onto every little morsel of memory. Still, every day I miss you. You were my love, and I cherish every moment we had together, as I hold you and our exquisite love in sacred space.
My dearest, we are still together in our hearts and always will be. Indeed, love is everything.

About The Author: Mountain Sage

For thirty-six years, Mountain Sage has been providing her much sought after insight, coaching and spiritual counseling to clients locally, as well as internationally. Many other psychics, spiritual counselors and healers, professionals, celebrities, and individuals of all backgrounds, have relied on her gifts to find their way through muddled times. Mountain Sage is the student of an exalted Gurugi in Bombay, and Shaman of the Fireheart Sweat Lodge in Santa Fe, New Mexico. Her extensive training includes Oracle, Healing, Universal Laws & Principles, the Sacred Circle and Psychic Shielding. She specializes in Ascended Masters, Altars, and Minerals. She holds the great honor of Oracle Carrier by her tribe due to her outstanding psychic ability, passion for the psychic realm, integrity and sacred work. She blends mystical understanding with practical application, and her art is connecting with the Divine. Get a psychic reading with Mountain Sage at PsychicAccess.com.