The War Veteran's Belongings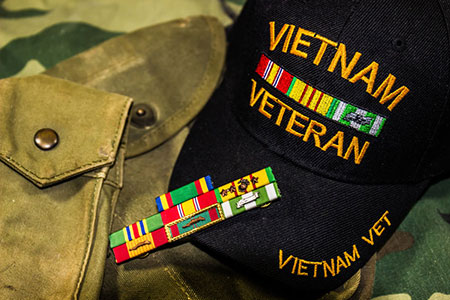 It is sad when someone dies and there is no one around to pick up the pieces; no one there to take care of one's belongings.
There was an old man who lived in the same building as one of my clients. After the he had passed away, all of his belongings ended up scattered all over the communal storage area in the basement. The boxes had been ripped open and kicked around, and people just picked though his things and looted whatever they wanted, leaving the rest in a chaotic mess.
My client felt bad about this, because when she came upon this pilfered disarray, she noticed some items among his belongings  indicating that he was a Vietnam war veteran, including a baseball cap with many pins on it, which he obviously had worked hard for. There were also many cards that people had sent him, thanking him for the gifts he brought back from Hawaii.
He had clearly been a good person, but those that lived in this building with him regarded him as a busy body who was always meddling in other people's business. Only after he was no longer there did people begin to realize how many things he got accomplished and how many things he had actually taken care of on everyone's behalf.
For example, the dodgy front door lock to the building was always fixed and in a working order. He was always out in front of the building warning those who would drive through, who didn't belong there, to go the other route, since this was a private area and not a drive though for the public.
Carry out a random act of kindness, with no expectation of reward, safe in the knowledge that one day someone might do the same for you ~ Princess Diana
My client told me the last time she saw him he told her he would "always be around to take care of the place." That was the last thing he said to her, when she met him in the basement doing laundry.
It's interesting, and sometimes bittersweet, when we have been orbiting around certain people in our lives, not noticing how much difference they actually make in our lives. We often do not appreciate them until they are no longer there.
My client asked me what she should do. I said she should take care of the rest of his belongings for him, since no one else is around to do it for him. She then went though his things and took most of his stuff to the nearest charity shop, while keeping a few things that she knew he would be happy for her to have. In the last box she found a five dollar bill, which she took as his way of saying thank you for taking care of his stuff. There was also a beautiful candle she kept and will always treasure.
In all affairs it's a healthy thing now and then to hang a question mark on the things you have long taken for granted ~ Bertrand Russell
As she was walking up the stairs to go to her apartment, after cleaning up the last remnants of what everyone called "the mess downstairs," she heard an unusual noise. She stopped and looked around the basement. On the other side she saw his shadow and him waving to her, and heard him say thank you. I had told her before that she has the gift to see, but she didn't realize it until she saw the old man's spirit herself. If only more of us would have the eyes to see and appreciate the true value of others in our lives.

About The Author: Moon Goddess

Moon Goddess is a third generation empathic healer and seer. She started to give healing readings to people more than 20 years ago. She has always been interested and studied all things metaphysical from a young age. Being hypersensitive she can feel and see things before they happen. Utilizing the Tarot, and with the help of her Guides, she is a source of support for many people all over the world. After he passed over, her grandfather kept his promise and came back to say goodbye and gave her the most amazing experience. Moon knows there truly is a Heaven, and it is wonderful! Sharing her experience has helped many people after they have lost someone, or anyone experiencing some form of grief. Get a reading with Moon Goddess now at PsychicAccess.com.