Tarot And The Future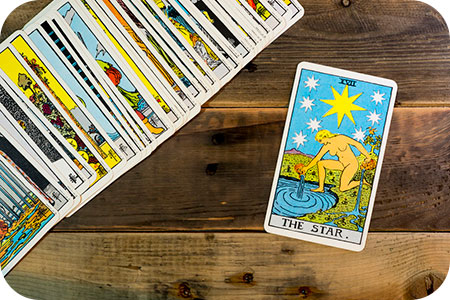 The Tarot is a wonderful resource for gauging which direction we are heading in life. However, too often people seeking information will misunderstand the system. They want to know the future, but the Tarot does not create the future. The Tarot is a metaphysical tool and does not negate metaphysical laws. We can certainly see which direction we are headed in our lives, based on the insights the Tarot can provide. However, it is important to pay attention to the whole message that is coming through.
Rushing to the end of a Tarot reading is unwise, since there are often elements of change that are integral to the outcomes. I often explain it like this: the Tarot works in much the same way as a Global Positioning System (GPS). The end point will represent the coordinates that we either desire, or are currently headed toward. The other cards represent the path to get there. At times, the Tarot will provide directives that help us along the way. Just like with a GPS, we cannot expect to get to the right location if we are unwilling to follow the instructions necessary to get us to the right place.
As I stated before, the Tarot does not create the future and it does not negate metaphysical laws. It is important to understand metaphysical laws, since these elements show up in nearly every spiritual tradition in one way or another. The first metaphysical law is that every thought that we think and word that we speak is constantly shaping our world and our experiences. In the Judeo-Christian tradition this is called faith. In Buddhism, the Buddha is noted as saying, "The mind is everything. What we think, we become."
 I don't believe in little plans. I believe in plans big enough to meet a situation which we can't possibly foresee now ~ Harry S. Truman
The second primary law of metaphysics is that whatever we give out comes back to us multiplied. This is often called karma.  Too often people think of karma as a punitive system. However, karma simply represents cause and effect. If you plant a tomato seed in the garden, you will never get a cucumber. The same is true related to our thoughts and actions. If we are critical, judgmental, or act in ways contrary to what we want, it is impossible for the Universe to create experiences consistent with our intrinsic desires.
We cannot expect to cultivate a loving relationship if we are focusing on fear or frustration with others. If we judge others, it is impossible to create the love we say we want. The same is true with money and finances. If we believe that there is not enough, or we are judgmental of people that have more, we are limiting ourselves from experiencing the good we say we want.
The reason most people never reach their goals is that they don't define them, or ever seriously consider them as believable or achievable ~ Denis Waitley
Tarot can help us see our options. It can hold up a mirror into our own circumstances and allow us to recognize changes that we need to make. In this way, the Tarot can be an invaluable tool in assisting us in creating our future and showing us the wonderful things, we are able to create in our lives. However, when we give our power away to outcomes, it means we no longer have the power. The Tarot is meant to empower and only retains value when we allow it to help us make necessary changes to achieve what we say we want.

About The Author: Cosmic Coach

Cosmic Coach (James) has mastered many techniques in his psychic practice to connect with the unique heart center of each of his clients. He is a Reiki Master of many traditions, who is adept at crystal healing, card readings, and delivering detailed messages from Angels and Guides. A Christian Minister, a teacher and an Energy Guide, living in Michigan, James is always expanding the base of his knowledge to broaden his reach and serve as many clients as possible. To experience a unique reading personally designed for you, you can find Cosmic Coach at PsychicAccess.com.


This site uses Akismet to reduce spam. Learn how your comment data is processed.