Restlessness Is A Spiritual Growth Opportunity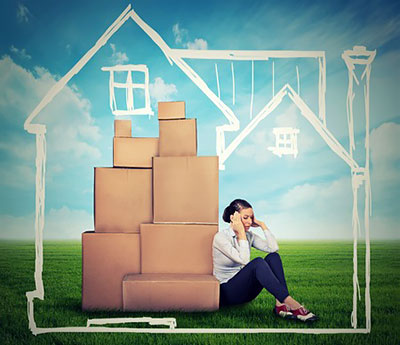 When I was a teenager, one of my more 'vocal' cousins said to me, "You don't seem to stay in one place for very long… just five minutes and, poof, you're off again!"
At that time of my life I could put this down to my musician father's wanderlust. He was a Sagittarius, and we not only often moved towns and countries, but frequently continents too. Such an unsettling way of life is usually not ideal for a Cancer like myself, but I seem to have inherited my father's restless genes.
Today, my husband and I are in a tranquil setting since our international relocation over two years ago from a more volatile environment. Still, the restlessness persists. My menagerie of pets – five dogs and three cats – at least keep me relatively at peace.
I do know that actions provoked by restlessness can involve inevitable stresses, as was the case with our most recent big move. Unlike the days when I was still doing things solo, or when I was still living with my parents, this time I had the many pets to consider. Their well-being moving from one continent to another was one of the biggest stresses I have ever experienced.
No one is ever satisfied where he is….Only the children know what they're looking for ~ Antoine de Saint-Exupéry
They were all fine throughout the complex transition, with its endless officialdom and paperwork. They fortunately didn't seem to pick up on my stress. I did my best to take on board the invaluable advice of the owner of the pet transport company who said, "Keep it simple, and act as if the day they get transported is just an average day." She was right, it was great advice.
I do believe that feeling restless does have something to do with feeling that this world is really not your primary home. Various family member have told me over the years that I was "not one of them." Perhaps they were right.
Or, was it due to spirit pushing me to the many learning experiences I have gathered along the miles?  There was addiction, as well as being exposed to different cultures and divination experiences I would have never known. Not having roots can be very lonely, as can addiction, so I certainly can relate to many customers who phone me for psychic readings. As a friend recently said, it's helped me "tweak my hearing for the myriad of accents of callers!"
Restlessness currently appears to be a global experience for many. Not just geographically, but also romantically. Many women especially find it hard not to take the restless nature of the men they love too personally. "Why won't he commit or stay in one place – why is he always running away from himself," they ask.
Although restlessness may prompt us towards new experiences, or 'happier hunting grounds', there will also come a time where we realize that we will never find that contentment or serenity outside of ourselves – not in a relationship, worldly belongings, or a country of residence. Restlessness is truly quelled where we feel fully connected to the source of our being.
Happiness, not in another place but this place…not for another hour, but this hour ~ Walt Whitman
Spiritual practices such as contemplation, prayer, meditation, repeating mantras, Yoga, and other spiritual practices, are all helpful tools to respond to spirit's calling to connect with home. In that 'space' we remember real love energy and contentment. That's where you will find calm and peace, within yourself.
When I began my training as a sangoma (South African traditional healer and diviner) my mentor told me that my restlessness was caused by my ancestors prompting me to follow my calling to my spirit work. Subsequent restlessness has been to bring me to places which award me the opportunities for further life lessons I came here to learn.
It's as if each time we've achieved my goal, there is the 'wanderer' in us, that nagging part of you that already has its eyes set on the next goal, which resurfaces. I believe such divine restlessness spurs us on to greater things. The only concern is our impatience, anger, and even guilt, for not being contented with what we already have.
We must embrace this forward movement, without looking back with any negative emotion. Again, our consciousness will expand, and our awareness become so much greater. We will no longer feel different, or less than. For we are all right on track and right on schedule just the way we are.

About The Author: Shani

Shani is a qualified practitioner in Reiki, aromatherapy, reflexology, body spin, and animal telepathy who received psychic development training at the Arthur Findlay College of Psychic Research in England. A published writer, her articles and predictions have appeared in several respected magazines and on psychic websites, and she has read for many celebrities and even heads of state in Africa. Though she was born in London, Shani has traveled the globe and has studied the art of African Mysticism, bringing her unique flavor to those seeking her incredible talents. Get a reading with Shani at PsychicAccess.com.