Guilt As A Spiritual Life Lesson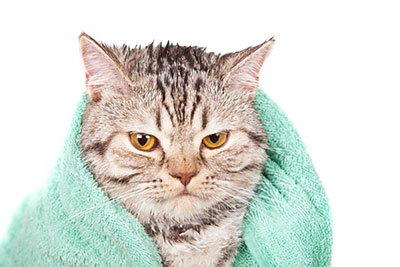 A recent traumatic incident with my cat had me really thinking about how each upsetting experience in life really helps me to identify all the more with my psychic reading clients. People often consult professional psychics when they are going through an intense emotion, just like the one I have personally experienced recently as one of my spiritual life lessons.
The unfortunate incident with my cat occurred just a couple of weeks ago. After nine years of sticking to a routine of treating first dogs, and then cats, with an anti-tick solution, I did the unthinkable, and treated my young cat Prince first. Without thinking, I applied to his skin a larger vial than usual, suitable for a medium weight dog. Within minutes Prince was angry and in discomfort, and  then I realized what I'd done!
Empathy's the antidote to shame. The two most powerful words when we're in struggle: me too ~ Brene Brown
I called the vet, and to my horror, he said, "Get him here immediately! This is one of the worst things you can do to a cat." Although he was busy with other animals on our arrival, he attended to my cat Prince right away.
Meanwhile, I was consumed with guilt. As if my feline hadn't been through enough in his past, as a sickly rescue cat, how could I put this precious soul, who had trusted me so much with his care through such discomfort? No, it was never my intention to cause his suffering, and I tried to keep focused on helping the vet to clean the substance off his skin. This was a priority, before giving him sedation internally.
Guilt. Oh boy, was this event a lesson in guilt!
Prince stayed at the veterinary hospital overnight for observation, and by the time I fetched him the following morning he was out of the danger window. But later that day he still had some muscle twitches as a result of the toxicity from the anti-tick substance. So again, I took him to the vet for a major shampoo and a bit more sedation. Oh my! What had I done to make him suffer so much! I do feel my guides helped me to realize my mistake quickly. If not, he would have died.
In this particular situation, my lesson was about guilt. Guilt is fine if you learn from it and move on, but often during readings I consult with individuals who struggle with some form or other of guilt. I have often found that those who should have more reason to feel guilty, do not, and those who have little reason to feel guilty, tend to feel more! Perhaps it is not the lesson of those people who don't feel guilty to suffer the plague of beating up on themselves with this debilitating emotion, which is so draining to one's energy and health!
A moment of self-compassion can change your entire day. A string of such moments can change the course of your life ~ Christopher K. Germer
Years ago, I was feeling guilty because I couldn't make up my mind between two guys I was seeing. The guilt at causing both of them distress in the process was overwhelming, and my thyroid suddenly became extremely overactive. I saw a trusted homeopath who said to me, "I will give you some muti" (a Zulu term for medicine, used in South Africa). He further explained that the thyroid is the gland of the emotions, and until I get my emotions in check, there isn't much he can do to help me.
The homeopath pinpointed the problem without him knowing anything about what was going on with my emotions. This is a typical example of how negative emotions, like guilt can play havoc with our auto-immune systems, and at any attempt to feel peaceful.
Guilt is very destructive, and it reinforces our feelings of being 'not okay'. It robs us of our confidence, self-respect and peace of mind. Guilt cannot exist where there is compassion. So, I worked on being compassionate with myself.
If I knew then what I know today, would I have handled the situation in a very different way? Of course I would. I learned from the lesson and that is what counts. I apologized to everyone involved, for the discomfort and inconvenience caused, including, of course my cat, and now I am letting myself off the hook!
When we feel we have done something to hurt someone or something, it's good to apologize wherever possible and to make amends. Should somebody choose not to forgive us, and let us off the hook, just know that our sincere regret is enough, because guilt is a symptom of fear more than one of caring.
My cat Prince, by the way, must have accepted my apology, because he is more loving than ever and rarely lets me out of his sight, despite what happened.

About The Author: Shani

Shani is a qualified practitioner in Reiki, aromatherapy, reflexology, body spin, and animal telepathy who received psychic development training at the Arthur Findlay College of Psychic Research in England. A published writer, her articles and predictions have appeared in several respected magazines and on psychic websites, and she has read for many celebrities and even heads of state in Africa. Though she was born in London, Shani has traveled the globe and has studied the art of African Mysticism, bringing her unique flavor to those seeking her incredible talents. Get a reading with Shani at PsychicAccess.com.


One Response to Guilt As A Spiritual Life Lesson