Death Shall Never Part Us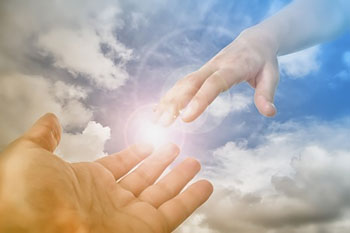 You will hear people say, "I love you to death." Or "until death do us part." Or better yet, "I will love you until the day I die." I have never been able to wrap my mind around this. Does the love you have for a special person in your life become non-existent after you die? Once we are dead it is over? Nothingness?
No, this I do not believe, because I know there is life after death. I have my own proof. My experiences with loved ones that have crossed over have shown me this. They have come back to very much look me square in the face and say, "I still love you." There is life after death.
Life is eternal and love is immortal; And death is only a horizon, And a horizon is nothing save the limit of our sight ~ Rossiter W. Raymond
The love you have for your mother, father, siblings – literally everyone you love – will never go away. You are eternally tied to that person. You may reincarnate in different bodies, you may come back as your mother's mother next time, or your friend whom you love so much could come back as a sibling, and you will learn different lessons that way. Love doesn't end because your physical body does. Love is more powerful than death.
I will always shake my head and roll my eyes when I hear people say, "I will love you till the day I die." If I were the person being told this I would feel like it was a slap in the face with words.
I know plenty of people that have gone on to remarry after their spouses have passed on. That is okay, you can definitely continue to live and love again, but that love that you had for your first boyfriend or first husband still is there. It may be a little forgotten and dormant, but that love is still very much there. God is love and that love exists in a lot of different ways. All kinds of love continue.
I remember my first Sunday school teacher. I loved her and her husband so much. They had such caring and kindness and compassion, and I to this day I have such respect and love for them. When I saw one of their names in the obituary section a few months ago, I remember I cried. I was sad. I remember them fondly and remember the wonderful lessons and fun times we had. All of my church family and friends, whom I know longer see, we still remember these people. Those memories are gifts. We can still go back and treasure those wonderful times.
The story of a love is not important – what is important is that one is capable of love. It is perhaps the only glimpse we are permitted of eternity ~ Helen Hayes
I have found that there are all kinds of people we will brush shoulders with again, and again. Some of them are angels, some of them are friends, lovers, relatives, blood family, all kinds of folks. Some we won't remember and some we will, and some make a huge impact on our lives and help direct our lives in ways that are profound. We love them and that love never dies. Even though we may not think of them very often as we live our busy lives, which tend to be very chaotic, we finally see them again and we tend to pick right back up where we left off. That is true love. We are divinely connected in this life, and after death. Isn't that wonderful?

About The Author: Moon Goddess

Moon Goddess is a third generation empathic healer and seer. She started to give healing readings to people more than 20 years ago. She has always been interested and studied all things metaphysical from a young age. Being hypersensitive she can feel and see things before they happen. Utilizing the Tarot, and with the help of her Guides, she is a source of support for many people all over the world. After he passed over, her grandfather kept his promise and came back to say goodbye and gave her the most amazing experience. Moon knows there truly is a Heaven, and it is wonderful! Sharing her experience has helped many people after they have lost someone, or anyone experiencing some form of grief. Get a reading with Moon Goddess now at PsychicAccess.com.


One Response to Death Shall Never Part Us