Start Your New Year Right With A Vision Board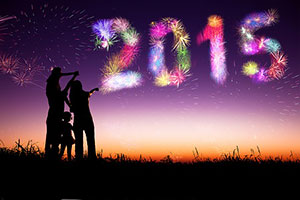 The concept of a vision board as a tool to manifest your desires is simple. Since most of us tend to get distracted very easily, the board is a constant reminder of what we want and the steps we need to take toward our goals.
In short, a vision board is a visual reminder of our hopes and dreams, along with affirming words or sayings. Like people, no two are the same, and you don't have to spend a fortune to make one for the New Year.
When making your personal board, it's best to be as specific as possible. For example, almost everyone might say: "I wish to be successful in life!" But really read between the lines. Is this a promotion at work? A better relationship with friends or family? Choose pictures or words that represent exactly what you want. If you only say "I want to travel," it is not as specific as pictures of a Hawaiian beach or Big Ben in London.  If you need a new car, find a photo of the exact make and model.
We will open the book. Its pages are blank. We are going to put words on them ourselves. The book is called Opportunity and its first chapter is New Year's Day ~ Edith Lovejoy Pierce
In addition to depicting what we want, creating a vision board is a wonderful way to reinforce positive beliefs, as well as silence the small, negative inner voice we all have.
Remember how we saw positive sayings on bulletin boards as children and remembered them? Same idea! We tend to remember, and think about, the things we see every day. When you make one, place it (and it doesn't have to be just one) in a place you'll see it often. Try the bedroom, your workspace, or even the bathroom mirror. When you wake up and look at "I am beautiful just as I am" printed there, after a while, you'll start believing it.
Also, since so many of us have multiple responsibilities in our lives, our vision board helps us focus on what's really important: our own fulfillment. We are told over and over again to put others first, and while that is true, so many of us neglect our own hopes and dreams. They wither and die, and we wonder why this is. It's because we are not reminded of them every day. If we have a vision board (or two) in our life, we can see the things we want instead of just thinking about them.
Your own board doesn't have to be expensive or fancy. If you're on a budget, start with a dry-erase board and some markers or crayons. Clip pictures from old magazines or newspapers. Remember how much you enjoyed creating collages in school? This is a collage about you: your hopes, your dreams, your ambitions. And it's never "done," just like you're never done! Keep adding to it as you see fit, or make one for each specific dream you have. There's no wrong way to do one.  Keep it close and you'll start to see your dreams becoming realities.

About The Author: Mystic Shelley

Mystic Shelley is a five-star psychic, Reiki healer, clairvoyant and empathic reader. She offers her clients honest answers about past, present and future events with the help of her trusted guides. She reads in the area of love, relationships, career, money and all matters of life. Mystic Shelley was born with talents that would later mark her as a gifted psychic, but she chose not to embrace them early on. In her 30's, a not-so-chance meeting with a celebrated psychic set her on a course that awakened her gifts. Born with the gifts of clairvoyance and empathy, her psychic mentor helped her to expand those abilities, taking her talents to the next level. With experience came proficiency and today she has a growing list of devoted clients who sing her praises. In addition, she's also actively assisted other psychics to open up to their abilities. If you are looking for direct and honest answers get a reading with Mystic Shelley now at PsychicAccess.com