Ghostly Phone Calls From Grandpa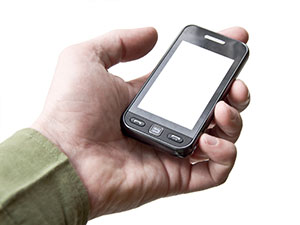 My wife's side of the family did not really believe in the paranormal. But that changed when my wife's grandfather passed away in 2010. After the funeral my father in-law asked me if I would help him paint grandpa's house, before they put it up for sale.
Soon after we arrived there, my father in-law came up from the basement with a funny look on his face. I asked him what had happened and he said it smelled like sawdust downstairs. The smell was exactly the same as it used to be when his father was doing his carpentry in the basement. When we went to bed I had a hard time sleeping and I remember looking at the clock. The time was 2:30 am. When I rolled over I could see the living room light on. I thought maybe someone got up and forgot to turn the light off, so I got up and turned it off.
If the dead can't rest in peace, how on Earth can the living? ~ Cheri Revai
The following day I told my father in-law that I turn the light off after he went to bed, but he was very surprised and said that the light couldn't be turn off, because the light had burned out and we still needed to buy some new light bulbs.
Later that day we were in the basement trying to figure out how big a rental truck we would need to transport all the carpentry equipment back to Ohio. My father-in-law's sister was with us when her phone rang. We were all in the basement; there was no one up stairs at the time. When she answered her phone we could clearly hear footsteps upstairs. But that was not all. The call on her phone was coming from her deceased father's phone number! She said hello, but there was no one on the other end. The same thing happened to me twice with my own grandfather and to me that was his way of communicating with me.
We decide to wrap things up and head back to Ohio. We would come back to the house after the Christmas holidays, to finish up the remodeling and put it on the market. When Christmas day approached we all got together at my in-laws. It was a little after 6:00 pm when my father-in-law's phone rang. Once again the caller ID showed that it was coming from his dad's phone number. Once again there was no one on the other end.
Consciousness is endless, from one incarnation to the next. It simply will and does manifest in other places and times, regardless of what becomes of the human race ~ Zeena Schreck
My father-in-law then told me he now believed what I had been telling him. He also felt that his dad was letting him know that everything was okay. Later, when we returned to finish our work at the house, I can also remember my surprise at my father-in-law speaking to his father, "Hey dad, where fixing the house up like you wanted. You and Mom would like the new colors and carpet that we put down. We also painted and everyone helped." I was very shocked to see someone who was so skeptical, go in the other direction and become such an avid believer!
A few months later my father-in-law had to go back to West Virginia to sign the paperwork on the sale of the property. On his way back to Ohio he called to tell us that after he had signed the paperwork, he got another silent call from his father. That was the last call anyone ever received from him. We know that he is now at peace.

About The Author: Raymond

Growing up on the streets of Columbus Ohio, Raymond learned at a very young age that he was gifted in many ways, including the ability to read someone's eyes and using a regular deck of playing cards to read the future! His mother was from a Native American family, namely the Black Foot tribe, and his father was German. Raymond discovered that both sides of his family had a psychic legacy. Over the years he has gained additional knowledge from books and by talking to trusted family members. Raymond has been doing psychic reading for others for over 3 decades, and over the years he gained many loyal clients from all walks of life. Visit Raymond for a reading at PsychicAccess.com


This site uses Akismet to reduce spam. Learn how your comment data is processed.