Just In Time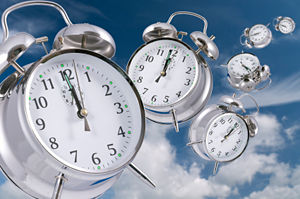 Time is a fascinating concept, and I say this even as I sit here having not worn a watch in twenty something years!
Time, as we know it, is an incredible thing. It heals all wounds, it mends fences, faces and most cuts and scrapes and bruises. It helps marinate things to a tastier level than previous. Time is also money. The list is endless.
I watched a movie the other day, In Time with Justin Timberlake. What a trip that movie was! The basic premise is that time is the only currency. A person is given 25 years to live, and then after that their own personal 'time clock' on their wrists starts to tick-tock away. There is no money – everything is bought and paid for 'in time'.
What would you do if you had all the time in the world? It made me ponder, and it made me look to the past and go around times in my life where I thought for sure this was 'it'. Although, in retrospect I'm not entirely sure what 'it' even was. I certainly never knew it, even when it was right there in my face!
Time is the coin of your life.  It is the only coin you have, and only you can determine how it will be spent.  Be careful lest you let other people spend it for you ~ Carl Sandburg
Then I went one step further and started thinking about life, and love, and the pursuit of happiness. How we often race against this giant clock in our minds. For some it is to get married and have kids by a certain 'time' in their lives; others feel let down and worthless if they haven't accomplished a certain thing by the 'time' they, or someone else, thought they should.
We spend so much 'time' trying to fit everything into something else, it's a wonder we get anything done at all! Time can ultimately be completely freeing, or it can make you box yourself into a corner. Either way, we have a finite amount of time on this Earth.
I have come to a place of peace, where I use each minute of time for something, even if it is for completely nothing at all. I take no time for granted, and I treasure each moment, because I have come to understand that happiness is fleeting, it comes in moments of time, and each moment is unique unto itself.
The lessons we need in this life, they come just in the nick of time – all the time, even if you may not think so. Because after all, timing is everything!

About The Author: Asherah

Asherah is a natural born psychic empath born and raised in Kingston Jamaica. An ordained Reverend and High Priestess, Asherah can easily tap into your real truth and help you to see clearly, releasing attachment to outcome by simply focusing on where you are now. Using tarot, numerology astrology and more..you can learn how to communicate your needs today! You can get a psychic reading from Asherah at PsychicAccess.com.


One Response to Just In Time