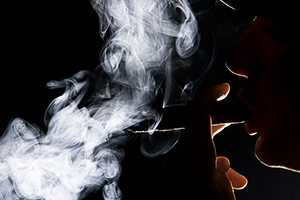 I have always been fascinated by the many ways the spirits of loved ones use to get someone's attention after they passed away.
In the past I have written about how my grandfather employed different means to get my attention after he passed away, including the smell of cigar smoke and mysterious phone calls.
For several years I kept smelling grandpa's cigar smoke. And before I knew my grandfather passed away, I got two phone calls from him on my parents old black phone. Later in life I received another phone call from him on my way home after a very long trip.
Since my father's passing I get the smell of cigar smoke, just like I did with my grandfather. It is not exactly the same type of smell, but I know it is him.
For the sense of smell, almost more than any other, has the power to recall memories and it is a pity that we use it so little ~ Rachel Carson
After my mother's passing I had her silverware disappearing. I knew it was there before, because I would rearrange the silverware. We had a knife disappear and I thought my wife had used it, while she thought I had taken it. Eventually my mom put it back where she took it from.
At times other stuff get knocked over or rearranged at our house. We have also had pictures of my great grandparents rearranged.
I can remember when I was growing up my parents had a old RCA television set that belonged to my grandparents. The TV would turn itself on and off.
A few weeks ago ago my  niece came over and she wanted to draw Christmas pictures as gifts for everyone in the family. She had found one that she drew when she was in junior high. She is in high school now. But it was time for us to go out for dinner and she left the picture on the kitchen counter. When we came back the picture she drew was gone. We never found it. We believe grandma took it.
Know that the dead is not to be feared, it is living that can change your life ~ Julie De Stefano
I have also noticed that at 12.12 pm sometimes things get knocked over. It was the time when my mother passed away. I used to yell at the cat to get down off the kitchen counter, but when I turn on the kitchen light the cat would be asleep on the couch. I would look at the clock and the time would be 12:12.
I believe that spirits are mostly just trying to get our attention and having fun with us. They do not intend to scare anyone. They may have unfinished business, or they just want to let us know they are fine and not to worry about them – they are now in a better place, but they remain present in our lives.

PsychicAccess.com


Growing up on the streets of Columbus Ohio, Raymond learned at a very young age that he was gifted in many ways, including the ability to read someone's eyes and using a regular deck of playing cards to read the future! His mother was from a Native American family, namely the Black Foot tribe, and his father was German. Raymond discovered that both sides of his family had a psychic legacy. Over the years he has gained additional knowledge from books and by talking to trusted family members. Raymond has been doing psychic reading for others for over 3 decades, and over the years he gained many loyal clients from all walks of life. Visit Raymond for a reading at