Be Very Aware… Angels Are Everywhere!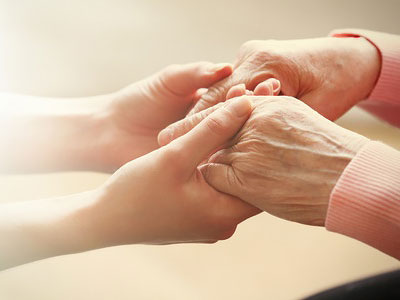 Walking into a store to do some last minute shopping,  I saw an old lady walking slowly, and obviously struggling to make her way across the parking lot, with her walker. She wore a very bright pink coat and her hair was styled in a way that made me think of the 1920s.
She was definitely having a hard time getting around, slouching and not able to stand straight up, even though she was a distance behind me. I was not in a rush, and try never to be because life is much more enjoyed when we don't feel like we have to be in a race.
Standing there for at least half a minute or more, holding the door, she stared into my face as she walked up. She seemed super happy, although it was hard for her to smile. She looked old and tired, like she may be on her final trip out on her own.
Don't forget to be kind to strangers. For some who have done this have entertained angels without realizing it ~ Hebrews 13:2
There was a little step on the curb she had to make her way up, all the while staring into my eyes. As she finally walked in, she stopped and said, "Why aren't you a kind dear! Everyone is in such a rush these days. Thank you for taking the time to hold the door for me."
I was looking for her as I made my way around the store, but I didn't see her. I asked the cashier, as I was checking out, if she had seen the lady with the bright pink coat and 1920's hair. I mentioned how she had a walker and walked in the store around 15 minutes ago. But they hadn't seen her.
Knowing how much of a struggle getting around seemed to be for her and considering she could be at least 80 or older, I left my bags with the cashier and walked up and down the aisles to see if maybe she needed help. My cashier was concerned enough to help me look for her. But she was nowhere to be found in the store!
I thought it was odd, but grabbed my bags and left. As I was leaving the store parking lot and getting ready to turn right on the main road, I saw her on the corner standing about two blocks up, walker, and pink coat, and all! I kept my eyes fixed on her, but then my phone vibrated . I looked down for a second and then looked back up and within that split second… she was gone! Where she was standing a few seconds before, a homeless man was now standing with a sign that read, God Bless You!
Whatever you put your attention on in this life will increase in your life. As you put your attention on angels, they will begin increasingly to make their presence known to you ~ Denise Linn
I now know she was an angel. I have seen them before. For some reason they always show up when I'm out and about running errands. I find it interesting how they are there one minute and then gone the next. I always find a valuable lesson each time I have an experience with an angel. I never know who may be one, but it is super important to always be kind and help those we see who may needing help.
I think in a world where so many are self-oriented, it is important to demonstrate the kind of change you wish to see in the world. Kindness still matters and there are still people left that help each other and care about others. I believe angels are put in place to help us to remember this at times, throughout the course of our lives.

About The Author: Moon Goddess

Moon Goddess is a third generation empathic healer and seer. She started to give healing readings to people more than 20 years ago. She has always been interested and studied all things metaphysical from a young age. Being hypersensitive she can feel and see things before they happen. Utilizing the Tarot, and with the help of her Guides, she is a source of support for many people all over the world. After he passed over, her grandfather kept his promise and came back to say goodbye and gave her the most amazing experience. Moon knows there truly is a Heaven, and it is wonderful! Sharing her experience has helped many people after they have lost someone, or anyone experiencing some form of grief. Get a reading with Moon Goddess now at PsychicAccess.com.


This site uses Akismet to reduce spam. Learn how your comment data is processed.