Oranges Are Adventurous Souls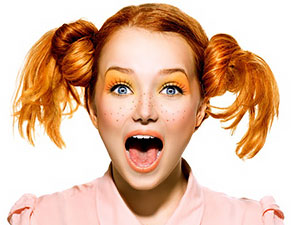 Orange soul colors are one of the most notably vibrant. They are exceptional survivors who frequently have huge emotional issues happening in their lives – not just for themselves, but also for close family members.
At the same time, "oranges" are one of the most daring soul colors in existence. They are adventurous spirits who won't just go on a safari, but will try to get so close to a wild animal that they could count its teeth.
Oranges love to take risks. They can change course abruptly and love to dive into something they may think is important at the moment. They can at times be challenging to live with, as they like to be on the move and do not care for a quiet, normal existence. Oranges are not fond of doing any deep thinking and believe life is to be lived to the fullest.
Orange is the happiest color ~ Frank Sinatra
If working in close proximity to an orange soul color, you will notice that once an idea is presented to them it is full speed ahead, and you must be prepared to keep up! They are apt not to be swayed easily once they have a focus on something. They are very rapid movers.
People have a tendency to enjoy being with these souls, as there is never a dull moment with them. Just being in the same energy sphere with an orange soul will increase the energy frequency in your own life.
They can appear to be somewhat callous, as they do not always stop to reason emotions out. However, that is certainly not the case. They are in fact very warm, giving and kind. They are also extremely generous of spirit and willingly help out at a moment's notice.
Being an orange soul color can be a joy in itself. If you are not an orange yourself, always try to have one in your life, as  they are a great example of how an active, fun life should be lived.

About The Author: Kitty

Kitty is a Canadian Intuitive, born into a large family of clairvoyants and clairaudients. A local celebrity, she's been giving accurate predictions in her paper for over fifteen years now, and is often called upon to lead séances and provide readings at Psychic Fairs in Vancouver. A trained counselor, she combines her natural Gifts to detect blockages at their root, and provide detailed psychic information and practical advice for success and happiness. She's helped locate missing items and people, has communicated messages from loved ones who've passed on, and communicates with two Sacred Celestial Beings who are unerring in the startling information they provide. If you'd like to connect with this remarkable Intuitive, whose talent spans generations, you can find Kitty at PsychicAccess.com.