Thinking Of Yourself Less Often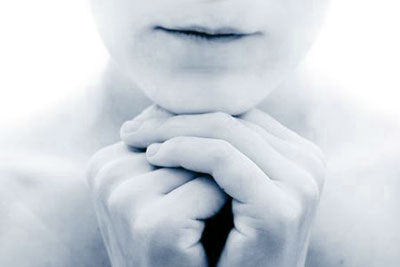 The very first, and rather touching description of humility that I ever heard was during my earliest days of following a Twelve Step Program of Alcoholics Anonymous. I was read out by a man with 16 years of sobriety:
Humility is perpetual quietness of heart. It is to have no trouble. It is never to be fretted or vexed, irritable or sore. To wonder at nothing that is done to me, to feel nothing done against me. It is to be at rest when nobody praises me, and when I am blamed or despised, it is to have a blessed home in myself where I can go in and shut the door and kneel to my Father in secret and be at peace, as in a deep sea of calmness when all around and about is seeming trouble.
My mentor in that program told me to try kneeling in prayer. She told me this humbling posture would strengthen my intention of any prayer I was reciting.
Never look down on anybody unless you're helping them up ~ Jesse Jackson
Another slogan which has always stuck with me, and is also from the Twelve Step Program, reads:
The challenge is not thinking less of yourself, but thinking of yourself less often. 
At one meeting, we discussed the word humility and I learned that it came from the Latin word, humilis, which actually means 'low.' We tend to feel small when we are in awe of someone else, unlike feeling humiliated, which is feeling small or low in a bad way.
Lack of ego is being humble. We are humble when we do not put ourselves above or below anyone else. We can be unassuming and modest, yet unique, trusting that each one of us has a special life mission. If we can only get out of our own way, or conquer our egos, we have everything we need to reach our goals – together with our higher guidance, of course.
My mentor also emphasized how important it is not to blame. Blaming another is a reaction, not a solution. She said that once we own and accept that we each contribute to any ups and downs in a situation or relationship, we will feel less inclined to point fingers at another, and rather listen respectfully, as we try to understand them. Easier said than done, as it's much easier and takes less painful soul-searching to blame the next guy!
Pride must die in you, or nothing of heaven can live in you ~ Andrew Murray
Our pride is our greatest enemy. My mentor told me humility would be my greatest friend. Arrogance and pride impact greatly on our intimacy with others, as well as on our spiritual paths. Because humility is often viewed as a weakness, it's rarely a topic of conversation amongst spiritual disciplines.
Many years ago, my mother took me to a lady who did divination readings with both ordinary playing cards and the Tarot. The reading was fun and entertaining, but at the end of the reading, the psychic said to me, "I am never wrong." Wow, that was quite a statement!
We can all be wrong in our interpretation of a card reading, or in missing the plot of what our spirit helpers are trying to convey to us. I prefer to hear statements like those of Gordon Smith, the Scottish medium. I went to one of his live shows in Johannesburg. He humbly said that when he is told how accurate he is, it makes him cringe, because he fears missing the mark next time! What a humble soul.
My view of humility is that, we can have our own personal ambitions, but, at the same time be of service to others. When it comes to my own humility, I would call myself humble when it comes to my pets, because I am quite happy to be their slave.

About The Author: Shani

Shani is a qualified practitioner in Reiki, aromatherapy, reflexology, body spin, and animal telepathy who received psychic development training at the Arthur Findlay College of Psychic Research in England. A published writer, her articles and predictions have appeared in several respected magazines and on psychic websites, and she has read for many celebrities and even heads of state in Africa. Though she was born in London, Shani has traveled the globe and has studied the art of African Mysticism, bringing her unique flavor to those seeking her incredible talents. Get a reading with Shani at PsychicAccess.com.