Be Comfortable In Your Shoes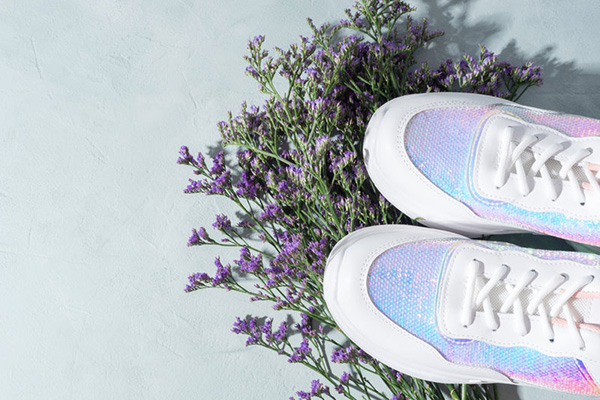 Shoes have always been irresistible for me. In my view you cannot have too many pairs of shoes! You need different shoes to go with different outfits.
When doing a psychic mediumship reading, often the spirit I'm communicating with will say to the client, "Don't try to cram your feet into shoes that don not fit. If you do the end result will be a bunion on your foot."
It is a metaphor in my psychic 'data base' for don't waste time on people, places or things that just are not working for you.
When I am traveling, I love to 'people watch at the airport,' while I have waiting time between flights. Many people spend this time texting on their phone, others play games on their tablet or laptop, or some still read a good book. Then there are the 'people watchers' like me that observe things like shoes.
People from different places all over the world are truly interesting to watch. Many travel as comfortably as possible in comfy clothes and shoes. Others prefer to be dressed fashionably, sacrificing comfort for looks. Businessmen typically stroll by in a suit, tie and shiny shoes.
It's interesting with men, as one tends to see some in sneakers or some other comfortable shoe, including the occasional colorful shoe or sandal. It is however the women who usually reveal more about their character and personality with their shoe selections.
For many women shoes represent how they feel about and see themselves. I still find it simply amazing to watch some ladies walking in six-inch-high heels. Most walk as if they were born in them. Some can even break into a running pace while wearing them. Got to love the TV-series RuPaul's Drag Race. The contestants always impress me with their strut in sometimes mind-boggling high heels. Awe-inspiring.
One thing I've learned is be comfortable in your skin, and more importantly, be comfortable in your shoes ~ Octavia Spencer
An artist friend of mine made a collage of women's shoes. It was beautiful and the first collector to view it, immediately bought it. We had a conversation about the different shoes. He said most of the tall girls donated shoes called flats. Instead of enjoying their height, they wanted to appear shorter. I am short, so if I could walk gracefully in high heels, you bet I would we wearing them.
Some people buy all the latest trend shoes. That could mean they either want to fit in and be like the rest of the crowd, or they consider themselves 'up with the times.' It's all good if your shoes make you feel good about yourself. Just go for it!
In my younger years, I once had a reading with a seasoned psychic medium. She said to always look at the shoes people wear, as it will tell you a lot about who they are. She added that they do not have to be the most expensive or newest shoes. It's more how they take care of the shoes they are wearing.
If people value and take care of their shoes, chances are that is how they will feel about other things in their life too. Their shoes may be old and worn, but if they take the time to clean it or ensure the very best shine, it reveals a lot about their true nature. They usually also value people, and the possessions they worked hard for.
Sometimes you must look beyond the shoes. It may be that the shoe really does not go with the clothes being worn. A few years ago, I had a foot condition that made it impossible for me to wear anything but soft sneakers.
Shoes transform your body language and attitude. They lift you physically and emotionally ~ Christian Louboutin
Thank goodness manufacturers have turned sneaker design up a notch. They come in many colors and styles these days to give a little more of a hint about who the person wearing them might be. Some even have sparkles. It took some of the pain of wearing shoes out for me at that time, especially when I had to do a live event in more formal attire or evening wear.
Now, in my view it is impossible to think a person wearing a pair of sparkle sneakers as not being a little 'out of the box.' Even in professional attire, that little dash of sparkle evokes the impression of a somewhat mischievous personality! Sparkly shoes are also magical, mystical and transformative. Remember Dorothy's red slippers in The Wizard of Oz? And let us not forget Cinderella's life-altering glass slipper.
Next time you go shopping, be true to who you really are and buy the shoes that you like. Live an authentic life and be comfortable in your own skin, and your shoes.

About The Author: Elizabeth

Elizabeth's talents go back several generations. She found her own gifts and embraced them at an early age, recognizing the difference between herself and most others around her. She's since honed and mastered many metaphysical practices, providing hypnotherapy, Psychic Mediumship, Mysticism, and Hypno-Reiki to her clients in Maine, and in areas around the US and in Canada, where she travels. A lover of pets, they are her greatest teachers and these unconditionally loving creatures often chime in on a reading in addition to the Angels, Guides and loved ones who provide resolution and answers for each of her clients. Elizabeth is also an author with much spiritual wisdom to impart and is currently working on a book. If you'd like to be a recipient of her unique Psychic Wisdom, find peace and receive answers that will also benefit your highest good, you can reach Elizabeth at Psychic Access.