Astrology Forecast January 31 – February 6, 2022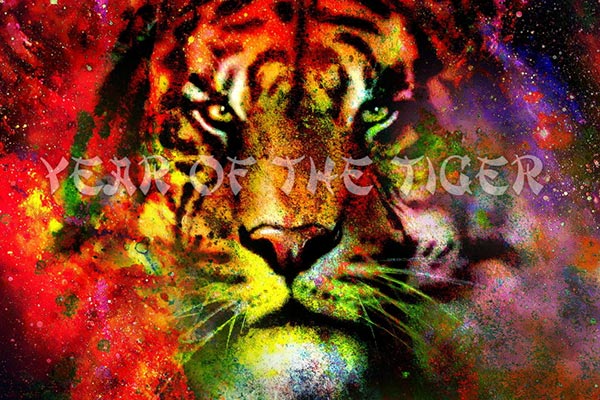 Happy New Year! This will be a week of fresh beginnings, forward motion and renewed motivation. Don't be fooled by the Aquarius New Moon setting a contrasting, feminine, yin tone before the masculine yang of the Chinese New Year of the Tiger beginning tomorrow. The Tiger year will be giving us a second chance to make some resolutions and embrace a new energy for the year ahead.
The Tiger represents prowess, stealth and achievement, marking this year as one with the potential to bring success in all we do. It will also cast a stronger and more confident tone over us, inspiring us to move forward with passion and fortitude.
The year 2020 (Year of the Rat) was about survival and the need for adaptability and flexibility. The year 2021 (Year of the Ox) was about caution, keeping faith and staying centered and grounded in a challenging new world. But the Year of the Tiger will be about renewed vigor, futuristic ambition, revitalized enthusiasm, and the courage to make major changes and achieve new goals. We can expect things to  change very rapidly this year.
The Year of the Tiger may however not start on a high note for those of us who are prone to melancholy, depression, or negative thinking. The Aquarius Moon conjunction with Saturn in Aquarius early on Tuesday could create a sense of dissatisfaction, loneliness or self-pity. Tap into the daring, self-empowered energy of the powerful tiger. Time to get fired up!
On Thursday Mercury will thankfully resume forward motion from its current retrograde, offering us yet another cycle of forward movement and progress. Fortunately, once Mercury resumes forward motion, no planets will be retrograde for the next three months. So, the sky is not even the limit of what we can achieve and attain the first half of this year.
The assertive and confident Aries Moon will grace the skies Friday through Sunday, making this the ultimate week to make fresh starts and embrace new beginnings.

About The Author: Susyn

Susyn lives in New Mexico, and offers Psychic Guidance, Astrological Insights and Channeled Messages that will change your life! Her credentials are top-notch and include a doctorate in metaphysical studies and certifications from The American Association of Professional Psychics and The American Tarot Guild. She's also a published author, with two metaphysical books under her belt, and has authored numerous articles and horoscope columns. In addition to her readings, Susyn is also a mentoring practitioner who teaches others how to master their own gifts, raise their vibrations, and empower themselves. A sought after guest on numerous radio programs, she has also hosted her own radio show. If you're looking for one of the truly bright shining stars who can also read them with an accuracy that will astound, look no further. You can find Susyn at PsychicAccess.com.