Three Crystal Cleansing Methods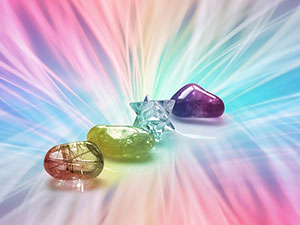 Crystals hold energy, so when you first get a crystal it is best to cleanse them before use. This does not mean that the vibrational energy within the crystal is not valuable without cleansing, but I have found that cleansing my crystals regularly brings out the best quality of experience in crystal therapy.
Below are three methods of cleansing crystals. There are several different methods for cleansing, these are just three common methods and by no means a complete list of cleansing routines. It is best to find the method that works most effectively for you.
One thing to remember about crystals is they respond to intention. They can certainly aid us in discovery and assist us in bringing about change, but the reality is that if we remain unwilling to change in certain areas of our lives the crystals themselves will have little effect. It is important with all healing practices that you take a holistic approach, and adopt methods that assist you in many ways. Crystal energy is often subtle, but when someone aligns his or her intention to it through action it can create wonderful results.
Energy work is priceless. It makes every day extraordinary and transforms the mundane to the holy ~ Silvia Hartmann
Cleansing Crystals With Other Crystals And Minerals
This is a very simple method of cleansing crystals.  Simply create a salt bed, and allow your crystals to lie in the salt bed for 24 to 48 hours. This takes away any energy that the crystal matrix might have stored that does not align with the intention associated with your crystal therapy.  You can also use black tourmaline which works as an infinite sponge for negative energy, absorbing it, or you can use onyx which dispels negative energy. With either tourmaline or onyx you may want to put these crystals together for three days to a week for optimal benefit.
Cleansing Crystals With Water
I have found that running water works best with this method.  You can either find a natural source of water such as a stream or river, or you can use running water from a sink or bathtub.  If you choose a natural flowing stream, the best way to keep your crystals from getting away from you is to get a nut milk bag and dunk the bag for several minutes into the flowing water.
Cleansing Crystals In The Earth
This method is similar to using other crystals and minerals as a means for cleansing. To cleanse crystals with the earth you simply bury the crystals under a plot of sand or dirt and leave them there overnight. Burying your crystals in the earth naturally grounds them, and any negative energy or intention that the crystal may have picked up is drawn into the earth and cleansed. Using this method is also a great way to charge the crystal with positive healing and grounding energy. I will discuss the charging of crystals in a future blog.
About The Author: Cosmic Coach

Cosmic Coach (James) is a Christian Minister, a teacher and an Energy Guide. He has been seeing and talking with Angels and Guides since he was 7. As a teen, it dawned on him the unique connection he had. He prayed for others at his family's Christian church, and received direct messages and healing energy from Spirit. As a young adult, he became ordained and is still attached to the Christian Church today. After mentoring with a remarkable psychic woman, he developed his own tools and began his full-time psychic practice. James has mastered many techniques in his psychic practice to connect with the unique heart center of each of his clients. He is a Reiki Master of many traditions, who is adept at crystal healing, card readings, and delivering detailed messages from Angels and Guides. James is always expanding the base of his knowledge to broaden his reach and serve as many clients as possible. To experience a unique reading personally designed for you, you can find Cosmic Coach at PsychicAccess.com.