Finding The Best Psychic Website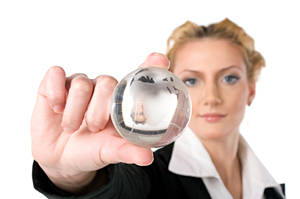 The eccentric, old-fashioned psychics have all but disappeared from their charming little corner shops. In less complicated times the local clairvoyant medium was well-known in the community, and clients were mostly referred to her by word-of-mouth. You knew who you were dealing with before you walked into her mysterious inner sanctum behind the silk curtains…
Today there are countless modern psychic services to choose from online. Finding a genuine psychic website can be extremely daunting. It is recommended that you look for a web service that meets the following criteria.
Limited Number of Psychics
Go for quality not quantity. Avoid services that allow psychics to merely register and join their ranks freely. A reliable and truly professional psychic website will typically have a list of available psychics that is simple, short and sweet. This is usually a clear indication that they are selective about whom they hire, and that they don't just take on board each and every person who claims to be 'gifted'.
Avoid sites where any willing individual can become an online psychic advisor within minutes, simply by completing a quick sign up form, uploading a fake photo and immediately getting to work. It is very easy to assess this. Before you spend money at the site, find their employment information or sign up section, and see what is required of psychics to join their team?
Check that they have a hiring policy and that they do in fact screen and interview their psychics, before they are let loose on the unsuspecting public. Do they verify the identities of the people working on their site? Have they been interviewed? Are their psychics tested for their abilities, before they are allowed to go online? If becoming one of their advisors is easier than getting a free email account, you might want to consider looking elsewhere.
Psychics Verified & Tested
Do you even know who you are talking to in that psychic chat room? There are some sites where so-called psychics pretend to be male when they are actually female, young when they are middle-aged, etc.
Steer clear of sites where there are countless psychics who don't even want to show their real faces. If a person does not want to reveal their true identity, they probably do have something to hide. Why would you want to talk to an anonymous stranger, whose profile features a picture of a crystal ball or a tarot card, and let them guide you in your most intimate life decisions?
Ensure that the customer service department for the psychic website you select actually consists of real people; human beings who are friendly, professional, honest and always available to assist you. Before you join a site, send them an email with a couple of questions. Ask them about their credentials, their refund policy and their hiring process. You will be surprised at the lack of response or support you will receive from some of these sites.
Good psychic websites will also offer opportunities for customer feedback, or some kind of rating or review system. If they do, read some of their customer comments. It will give you a good idea of the kind of people who use this site and the standard of the psychic service offered.
Professional, User-friendly Design
If a website has to use extreme window-dressing to get your attention, they probably have very little substance to offer. Avoid those migraine-inducing creations that feature flashing, colorful headlines in multiple fonts, animated capital letters and exclamation marks all over the place. True professionals will do there utmost to ensure that their website looks as professional and intriguing as possible, even if they have to do it themselves by more affordable means. And using a spellchecker costs nothing!
Affordable Rates
Beware of sites that charge ridiculous fees (or are so cheap that you wonder how on earth they manage to make a living?). Professional psychics charge respectable fees, but they are also not trying to get rich quickly. In fact, most trustworthy, reputable psychics often have very ordinary, even frugal lifestyles.
This does not mean that a true psychic should not be wealthy or prosperous, but the truth of the matter is that most of them are in fact everything but rich. This may be due to the fact that they do it for the love of their work, a sincere calling, and not just for the money.
© 2010 Anthon St Maarten

About The Author: Anthon St Maarten

Anthon St Maarten is an international psychic medium, intuitive consultant and destiny coach. He has been consulting professionally as psychic medium since 2004 and has since established himself as a trusted advisor to many people all over the world. He is also a sought-after inspirational speaker, metaphysics teacher, radio personality, spiritual author and blogger, with a special interest in New Thought spirituality, metaphysics, parapsychology, mediumship and psychic phenomena. He is best known for his bestselling practical spirituality book Divine Living: The Essential Guide To Your True Destiny You can get a psychic reading from Anthon at PsychicAccess.com


4 Responses to Finding The Best Psychic Website