Autumn Wishes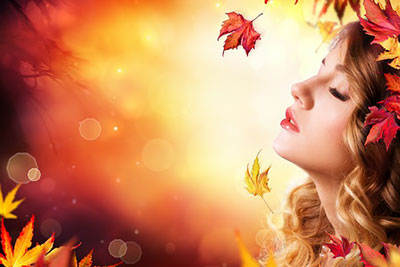 Leaves may be falling in the northern realms at this time of the year, but if you can still see the ground there is Fall gardening to be done. While there are some plants that thrive in this time of the "dying year", there are many other plants that will need to be rescued before the first frost comes to take them away and that is where you will be busy with Fall gardening. Get out your gloves and get ready because you need to prepare your garden for the long winter months ahead.
Life is full of changes. We have choices in our attitude about the changes. We can look forward to each one with great expectations of wonderful new paths, or we can look with dread at our lives becoming different.
Autumn carries more gold in its pocket than all the other seasons ~ Jim Bishop
We want changes. We want our lives to move forward, not stagnate, but then as the changes come, we start to battle with these ideas, these thoughts, these events. Change is never easy, but necessary. Life is full of wondrous, beautiful new paths to follow. We have to embrace each step along the way with the expectation of another new great step coming next.
If you look up the seagulls, they are a symbol of freedom, of hope. They remind us to be resilient, to be steady even in the face of the roughest winds. Their focus is to soar high above the clouds, above rough waters toward the Sun.
I grow up on an Island, and my parents' house have a little private rocky beach in the back yard. It was in that little backyard beach where my spirituality emerged and developed. I remember many afternoons, many early mornings, and many sleepless nights, sitting on my favorite big, beach rock in deep meditation. Sometimes I was thinking about my next exam, or my big project of the week, or even the first poppy love dating, and of course my first heart breaking. I used to watch the seagulls for hours and from them I started embracing my dream that I needed to fly away, and come to the big picture, the big country.
Winter is dead; spring is crazy; summer is cheerful and autumn is wise! ~ Mehmet Murat ildan
It was on that little rocky beach where my mom came to me in spirit the first time, the day after her funeral, and told me it was time to dedicate more time to my spiritual path, because is where I really belonged.
So, going back to harvest, my message here is to believe, to plant the seed, to trust in our self first, to stop saying "what if." It is time to just do it. Like we plant our new bulbs in the ground for next Spring, let us stop and think on our goal. What do we want to be next Spring? What is the big project we want to achieve? And what kind of change and adjustment do we need to do to get there?
I start with a bag of bulbs: daffodils, tulips, hyacinths, lilies. Just choose the ones you really like the most, and for each bulb dig a hole, and pray for a beautiful flower to germinate, and to that particular flower, you can address your dream, your desire. You can do this at any time in your life, when you know it is time for change. And, if you stick to this believe, you will see new, beautiful flowers next spring.
Let us grow until the harvest.

About The Author: Mariella

Mariella is a New York resident, born in Italy, who began accurately reading at the age of eleven with just an ordinary deck of playing cards. She's since designed her own deck of Tarot cards as well as a unique time board that provides clients with startlingly accurate time frames for her predictions. For a reading with this warm, funny, and highly detailed Clairvoyant and Empath, you can find Mariella at PsychicAccess.com.


This site uses Akismet to reduce spam. Learn how your comment data is processed.