2012: Doom Prophets and Deities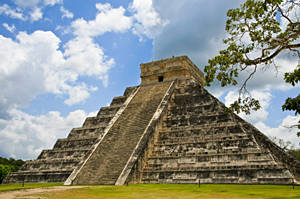 Your life is about to change irreversibly. Of course, you do have the option of taking the coward's way out, right now!
Yes, life is about choices. So, pause for a moment and reflect, because there is no turning back from what is about to be revealed to you.
Do you increasingly feel that your life has no meaning? Has God gone blind or deaf? Why are we so disconnected? Why do we feel so lonely, bored, tired, frustrated? Why is our environment in a mess?
The misery of modern existence is not just your imagination. There is no melodrama in what many of us perceive to be 'a world gone mad'.
It may, however, surprise you to know that our predicament is not as bad as it may appear to be. Our existential chaos is not the work of an angry God and neither is the world about to come to an end in December 2012!
Yes, mankind does appear to be facing catastrophe one way or another, but we are actually heading toward a brighter day – as long as we have people like you and me on board.
The End is Nigh?
The most pessimistic among us are anticipating calamity or utter ruin of Biblical proportions in the year 2012. Our future on earth appears to be destined for disaster and many eager doom prophets are contributing to a global frenzy with their theories. Depending on your background or religious beliefs, you may even regard these ideas as an undeniable fact.
It is sensible to be somewhat uneasy about our future, but there is no need to be exceedingly concerned. How can this be? Well, a simple decision has been made by many of us. Many of us have faced this choice. And now it is your turn.
You can continue chasing your own tail in the world economic circus to earn more, possess more, control more, fear more, or destroy more. You can drown yourself in information overload or opt to lounge around in La-La Land – drugs, sex, television, dogmatic religion.
You can continue to hop from one relationship to another, change careers, move from country to country, or adopt several different religions. These are all very worthwhile pursuits, even if they don't bring you any lasting peace or fulfillment.
On the other hand you can dive into our true collective destiny. You can awaken the deity within yourself to emerge as a titan of spiritual enlightenment. You can save yourself, and you can save me too. You can save all of us!
The Power Is Yours
Yes. You have the power to mutilate the future of thy neighbor's children, or save the human race from certain extinction.
The fate of our species does not solely rely on government officials, environmental activists, CEO's, church leaders or rock stars.
The future now depends on you and me. It is time to awaken. Our future is in your hands.
© 2010 Anthon St Maarten

About The Author: Anthon St Maarten

Anthon St Maarten is an international psychic medium, intuitive consultant and destiny coach. He has been consulting professionally as psychic medium since 2004 and has since established himself as a trusted advisor to many people all over the world. He is also a sought-after inspirational speaker, metaphysics teacher, radio personality, spiritual author and blogger, with a special interest in New Thought spirituality, metaphysics, parapsychology, mediumship and psychic phenomena. He is best known for his bestselling practical spirituality book Divine Living: The Essential Guide To Your True Destiny You can get a psychic reading from Anthon at PsychicAccess.com


4 Responses to 2012: Doom Prophets and Deities