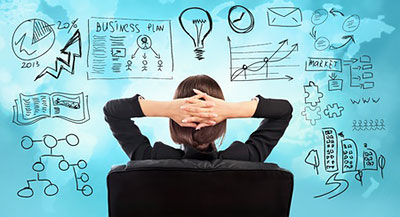 I have owned several businesses in my day, but they were not necessarily successful. Why do you think that is? Well, let's look at some of the enterprises I started, and my reasons for doing so.
For example, I opened up a Goth and Punk fashion store with my daughter which, as you can imagine, catered mostly to young adults. That lasted about a year and a half before we went out of business. Next, I tried a psychic tea house with my two daughters. We offered lunch and snacks with beverages, and I read Tarot cards. That one we managed to hold onto for almost a year, before we ran out of funds.
I can accept failure. Everyone fails at something. But I cannot accept not trying ~ Michael Jordan
The last one I tried, which I was convinced would work, was an inkjet printing shop. I sold toners and refilled ink cartridges. I must say I broke the record with that business; it lasted for two and a half years before it folded.
Of course, now that I look back I can easily see where I went wrong and I certainly could have saved myself a lot of grief by asking myself one simple question, "If money were no object is this what I would be doing?" That answer would have been a resounding "No!"
I did loved being able to work with my daughter, but as much as I like young people, I would never actively seek out their company. Coupled with that, I have very little fashion sense and no interest in the clothing industry. What were the chances this was going to work for me?
When we started the tea room, I was only excited about the Tarot readings. I am not a person who enjoys food and I am completely bored when people are discussing recipes or things of that nature. So, what was I thinking?
The ink store might have had a chance of survival, if cell phones hadn't begun to dominate all aspects of our banking and our daily lives. Also, if I had more knowledge as to how printers worked it would have also been of great value too. Too bad I wasn't really interested.
Be patient with yourself. Self-growth is tender, it's holy ground. There's no greater investment ~ Stephen Covey
The first question you always need to ask yourself is the one that will save the most grief, time, money and effort. If money were no object is this what I would be doing? The second question would be, "What color is my door?" I would make no move whatsoever until I answered this one as well.
In the meantime a person can always take on a survivor job to make ends meet. We have intuition, talents and abilities in given areas for a reason, and as long as we are paying attention to what our gifts are and asking ourselves these two important questions, it is always the indicator to our ultimate success.

clairvoyants and clairaudients. A local celebrity, she's been giving accurate predictions in her paper for over fifteen years now, and is often called upon to lead séances and provide readings at Psychic Fairs in Vancouver. A trained counselor, she combines her natural Gifts to detect blockages at their root, and provide detailed psychic information and practical advice for success and happiness. She's helped locate missing items and people, has communicated messages from loved ones who've passed on, and communicates with two Sacred Celestial Beings who are unerring in the startling information they provide. If you'd like to connect with this remarkable Intuitive, whose talent spans generations, you can find Kitty at PsychicAccess.com.


Kitty is a Canadian Intuitive, born into a large family of