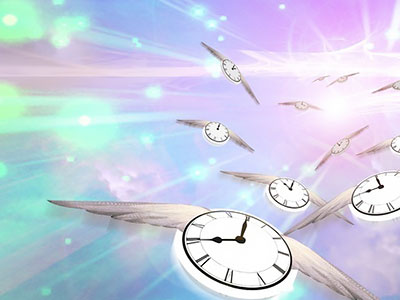 I was meditating deeply one afternoon wanting to connect with my spirit guide. I wanted to see if I there was anything that I needed to know, or anything that could help me be a better person. I then heard the words: "Time waits for no one."
I had been putting various things off for a while in my life, but I sensed this message was not for me. Sometimes when I hear things I later find out that they were for someone else: a client, family member, or friend.
Later that day, I took a call on PsychicAccess.com from one of my regulars who I often read for. She asked me if there was anything that she needed to know and I instantly knew the message about time and procrastination was for her, so I told her about what came through to me while I was meditating. She started crying.
Time is what we want most, but what we use worst ~ William Penn
She then told me she had just been visiting her mother at the hospice. During her visit she became aware of her thoughts and feelings about time and how fast a person's life can fly by. She was looking at it from a different perspective. Sitting in a hospice room with your dear mother in the last days of her life can definitely make you see how fast time flies!
She told me how she has always made these major plans for her future, thinking how great it would be to do this, or that, and accomplish this, and that. Her Mother told her that day she should go ahead and write the book she had been planning to publish about mother-daughter relationships, and how important they are. A woman's relationship with her mother can have a domino effect in her life. Having a good relationship with your mom can help to manifest good, positive relationships with other women down the road.
My message was exactly what she needed to hear, since she was looking for the confirmation to go ahead and write that book. She said she was going to do exactly that, and then dedicate the book to her mom. Her Mom will only be on this Earth she said for about another week, so she was going to tell her the next day. I knew it would put a smile on her mom's face to know she will dedicate the book to her.
Time is like the wind, it lifts the light and leaves the heavy ~ Doménico Cieri Estrada
She also told me that she had always wanted to move to Hawaii, but always felt she needed to stay in the United States, because her Mom needed her. She doesn't have any children and wanted to take that step now – to start afresh someplace new. She knew that what I shared with her was her sign that this was what she needed to do for the next chapter in her life. Her Mom also encouraged her to make the move. It would be the best thing for her.
My message to you is the same today: start living in the moment and do the things you need to do, because time waits for no one.

PsychicAccess.com.


Moon Goddess is a third generation empathic healer and seer. She started to give healing readings to people more than 20 years ago. She has always been interested and studied all things metaphysical from a young age. Being hypersensitive she can feel and see things before they happen. Utilizing the Tarot, and with the help of her Guides, she is a source of support for many people all over the world. After he passed over, her grandfather kept his promise and came back to say goodbye and gave her the most amazing experience. Moon knows there truly is a Heaven, and it is wonderful! Sharing her experience has helped many people after they have lost someone, or anyone experiencing some form of grief. Get a reading with Moon Goddess now at