Astragalomancy – Divination With Dice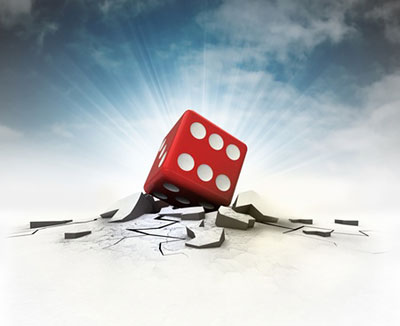 A bone throwing reading I did for a client recently prompted me to go back to some of my old notes on using dice as a divination tool. Using dice to divine is known as Astragalomancy.
Many of my clients are fascinated by some of the unusual items to be found in my bone-throwing divination pouch. I have some interesting pieces, from the original animal bones I was given during my training in this shamanic art, to crystals and other trinkets which all have a special personal meaning to me. Because of the special meaning attached to each item, it often adds extra depth to an interpretation. I also use different types of dice, which I combine with the bone throwing, including the more familiar dice with numbers to some I have with African wildlife images carved into them.
The dice of Zeus fall ever luckily ~ Sophocles
The markings on standard western dice have six faces, with markings of one to six, but they can be for the manufacturing of modern dice, but traditionally wood, ivory, and bone was used. Some practitioners believe that dice made of more precious materials enhance the power of the dice themselves.
An individual dice cube is called a 'die.' Dice are said to have existed some 2000 years BC, and, whether cast alone, or as a game using a board, have been found in their various forms worldwide. Early dice were often in use for board-type games, and, of course, for gambling.
Astragalomancy is the most common form of dice divination used these days. I was taught that the right and left ankle bones of sheep were used for this originally. Here is an easy and fun way to ask specific questions of your dice:
1. Draw a 12 inch (30 cm) circle on a flat surface.
2. Relax and focus on your question.
3. Throw the two dice into the circle. Iif the dice fall out of the circle, it's not counted.
4. Add the numbers of the two dice and consult the following list of meanings:
1 – Yes
2 – No
3 – Take care
4 – Be wise
5 – Good luck
6 – Of course
7 – Have faith
8 – Be patient
9 – Certainly
10 – Doubtful
11 – Nonsense
12 – There is a slight chance
The dice of God are always loaded ~ Ralph Waldo Emerson
There are a few superstitions associated with Astragolomancy, namely to only throw the dice when you are feeling calm, and in silence when the weather is on the cool side. Also, some believe that we shouldn't throw the dice for ourselves, but I do throw them whatever the reason or season!
Then, there is a slightly varied form of dice divination using three dice. Either throw the three dice from your hand or from a cup. Abandon the session should all the dice fall outside of the circle a second time – this suggests that the timing is not ideal for your divination.
Don't count any dice that fall outside of the circle. A die which falls outside the circle can suggest that your plans may not go quite to plan. Should two dice fall outside of the circle, friction may be coming. A die falling onto the floor tends to be viewed as stormy waters ahead.
Should for any reason the numbers of the dice only add up to less than three, the reading is null and void. In the event that one die lands on top of the other, expect a gift. At the same time, beware of being stifled in love and work.  Expect significant news if a number recurs during a reading.
Meanings of a three dice reading:
3 – Favorable, surprising news.
4 – Bad luck, disappointment.
5 – Your wish is granted but in an unexpected way, a stranger brings joy.
6 – Loss in business and money.
7 – Beware of backstabbing which causes setbacks.
8 – Injustice caused by outside influences. Victimization.
9 – Rekindling and forgiveness after arguing. Luck in marriage and in matters of the heart.
10 – Business success, promotion, domestic bliss.
11 – Parting of ways, some illness.
12 – Expect good written news, but seek counsel when replying to any correspondence.
13 – Sadness and grief.
14 – Help from a friend, getting to know a distant admirer.
15 – Beware of temptation.
16 – Safe and pleasant travels.
17 – A change of plan. Schedules may be altered by somebody abroad who is involved in your arrangements (this person is likely to have links to the ocean).
18 – Overall happiness involving prosperity and success.

About The Author: Shani

Shani is a qualified practitioner in Reiki, aromatherapy, reflexology, body spin, and animal telepathy who received psychic development training at the Arthur Findlay College of Psychic Research in England. A published writer, her articles and predictions have appeared in several respected magazines and on psychic websites, and she has read for many celebrities and even heads of state in Africa. Because of her empathy, people find it easy to connect with her. Every month, she attends a psychic circle and the information that comes through from Spirit never ceases to amaze everyone present. Though she was born in London, Shani has traveled the globe and has studied the art of African Mysticism, bringing her unique flavor to those seeking her incredible talents. What she has taken away from her many travels abroad, is that there is always a sort of longing clients have to be connected to the source of their being. Get a reading with Shani at PsychicAccess.com.


2 Responses to Astragalomancy – Divination With Dice