Say Good Morning To The World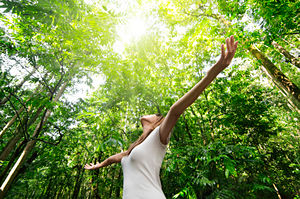 Yesterday was a real hard one for me; too many things going wrong: kids not observing rules, friends who just needed a few minutes to talk, family calling with one problem or another, and then being notified to fill in at work at the last minute.
Good morning to the World.
There I went, off to the craziness of another day in the old rat race of work, and family chaos.
But this morning I took a different approach, by returning to my usual daily routine. Seeing the Sun rising high in the East, I went outside to sit on the bench with my second cup of espresso. To charge up my energy I started singing O' Sole Mio in a clear, strong voice. This is the best way to welcome the blessings of another day – before everyone else wakes up.
Sadness flies on the wings of the morning and out of the heart of darkness comes the light ~ Jean Giraudoux
A chipmunk welcomed me this morning, promising me once more that the new plants I planted were not ones he would chomp up. Instead he was feasting on the pieces of pansy rose petals and cantaloupe seeds I set out for him.
When last did you look around on a beautiful, exciting morning? The daybreak is so full of life, full of expectancy, full of so much to do. One wonders how we could be sad in the midst of all this glory God has sent us.
As I stood with my arms raised toward the heavens this sunrise, basking in the warmth and singing, I could feel the healing energy and the re-charging power embracing me like a soft caress. It reminded me that we are children of the Universe, that the cosmos, and everything in it, is here for us to reach out to, so that we can receive blessings of abundance and joy with both our hands.
Whenever I need to meditate on a situation, a puzzle I still need to find the answers for, or as I petition for help, I surrender control to something Higher than myself. I allow the High Power to intervene, guiding me towards the right answers.
Morning is when the wick is lit. A flame ignited, the day delighted with heat and light, we start the fight for something more than before ~ Jeb Dickerson
We have been given access to something more, let the faith come into your being, filling you with the knowledge that you will achieve your dream, fulfill your needs, and find your purpose.
Today is your day to find the good parts of your life, your path. Right now, in this moment, hear the messages of what your path will bring. Do not not complicate it with your own thinking. Then move towards your dream.
Starting a day with such resolution gives me the fuel to help others, and I invite you to do the same.

About The Author: Mariella

Mariella is a New York resident, born in Italy, who began accurately reading at the age of eleven with just an ordinary deck of playing cards. She's since designed her own deck of Tarot cards as well as a unique time board that provides clients with startlingly accurate time frames for her predictions. For a reading with this warm, funny, and highly detailed Clairvoyant and Empath, you can find Mariella at PsychicAccess.com.