Horoscopes
Daily Horoscopes For Tuesday April 7, 2020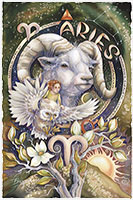 Aries March 21st - April 20th: Others will test your resolve and challenge your authority today, but stand your ground. You'll experience a surge of confidence when you trust your inner voice over outside information. Add power to your efforts to advocate for the underdog by inviting others to join you in your mission. The Libra full Moon will have you wearing your heart on your sleeve this evening, so dress in green to help maintain your emotional balance.

KEEP IN MIND: Stand up for yourself today and insist others respect your boundaries; after all, you're the only one who can do it!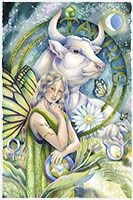 Taurus April 21st - May 20th: The Aries Sun will give you the confidence to speak your mind, even though confrontation is something you typically avoid. Face it, you'll have to state your boundaries clearly with loved ones and coworkers, or you'll never get any work done. Dress in blue to speed up your progress on a research project or to help you gain access to elusive information. You can be selfish with your time under this evening's Libra full Moon, so take up a fun and creative project designed just for you.

KEEP IN MIND: Be assertive today - it's the only way you can get what you need!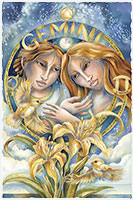 Gemini May 21st - June 21st: Self-serving behaviors could create upset under the sensitive Libra full Moon, so before acting, consider how your movements will affect others. Your current responsibilities and commitments need to be completed before you can dive into the new ones that are calling your name, and you can rely on the Aries Sun to keep you on task. Loved ones will make extra demands on your time tonight, and you'll have to abandon your plans to accommodate them.

KEEP IN MIND: Watch your ego today; if you don't, you'll have to make an apology before the day is out.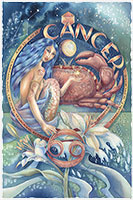 Cancer June 22nd - July 22nd: The extra responsibilities you've taken on are beginning to weigh heavily, so delegate work or extend deadlines to give yourself a little breathing room. If you confidently ask for what you need today, others will respond. Sit down and go over your finances this evening, just to make sure things are balanced and in order. Wear green tonight, as it can promote faster healing or generate romantic interludes under the Libra full Moon.

KEEP IN MIND: Slow down! There's no way you can get to everything on your list today, so either delegate, eliminate or ask for an extended deadline.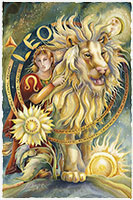 Leo July 23rd - August 22nd: Your persistence will pay off when a loved one or authority figure finally hears what you've been trying to tell them! Research technical data and facts under the practical Aries Sun, as your ability to advance will hinge on being well-informed. Wear gray, as it can help you remain neutral during a conflict on the home front. A surprising phone call will pull your attention back to the past, as an old friend reaches out to you under tonight's sentimental Libra full Moon.

KEEP IN MIND: Let your practical side lead the way today. It's the only way you'll feel like you've made any progress at all!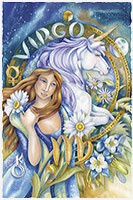 Virgo August 23rd - September 22nd: Today, you'll need to double-check billing statements and recent purchases to make sure you've been charged correctly. Take a few minutes to restore order to your home or office, as it will encourage balance on an emotional and spiritual level as well. You can get around red tape by approaching blocks more assertively. Dress in blue under tonight's Libra full Moon, and you'll find it easier to access important information or to get the answers you need from others.

KEEP IN MIND: Your mission (should you decide to accept it), is to restore order to your world today.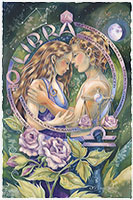 Libra September 23rd - October 23rd: Several responsibilities will come your way all at once today, and could create a sudden sense of overwhelm. Make a list, prioritize as you can, and be prepared to alter your plans as the day progresses. The Aries Sun will bring out your ambitious and confident side, providing the endurance you'll need to stay on track. You're sure to accomplish great things today, backed by the strength of the imaginative and loving Libra full Moon.

KEEP IN MIND: Don't forget that you have a choice today. Insist on maintaining your balance and refuse to take on more than one person could possibly handle.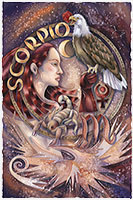 Scorpio October 24th - November 21st: You can expect a run-in with an authority figure or at the very least, someone who "thinks" they are in charge before the day is out. Though you tend to keep information to yourself, share what you know with others; it will work in everyone's favor. Wear indigo to improve your communication skills, especially if you'll be making a presentation or proposal under today's Libra full Moon. Regroup in a cozy atmosphere tonight, enjoying the company of loved ones.

KEEP IN MIND: Expect a conflict first thing this morning; if you want to win the battle, approach it with tact and the facts.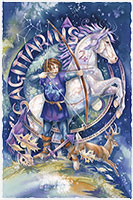 Sagittarius November 22nd - December 21st: Dressing in black today will help you stay on track and honor your commitments while it grounds your thoughts. Your real challenge will be to establish new boundaries with loved ones, as they've gotten completely out of hand. Take a poll to see where others stand on an important project at work, so you'll be able to approach it more effectively. Trust a friend with confidential information under tonight's Libra full Moon, so you aren't the only one carrying the secret.

KEEP IN MIND: Information is power, and unless you get some today, you'll be powerless to move in any direction. Translation? Start asking questions!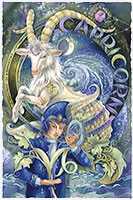 Capricorn December 22nd - January 19th: The Libra full Moon will awaken your artistic side today, so give yourself permission to express yourself through music, art, and prose. Once you make a list of your current responsibilities, you'll be able to delegate and streamline them into a more reasonable form. When you witness someone else learn a painful lesson, it will help you to avoid making the same mistake. Dress in green to attract a new love or windfall of cash your way.

KEEP IN MIND: Let your inner muse come out to play today; it's been cooped up way too long!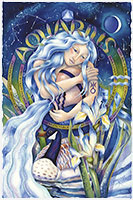 Aquarius January 20th - February 18th: The Libra full Moon could tempt you to daydream the day away, but the Aries Sun will help you to keep at least one foot on the ground. You'll fare better if you allow conflicting energies to fade before making any decisions or engaging in emotionally-based conversations. Your best defense may be to stick with solitary activities that nurture your creative side. Wear red this evening to motivate you, as it's time to attend a project you've been putting off since January.

KEEP IN MIND: Sit on the fence today and refuse to make any decisions or agree to someone's request. Otherwise, you'll just have to backtrack when you find you've committed to something you really didn't mean to.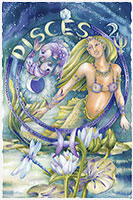 Pisces February 19th - March 20th: Unexpected romance or career opportunities will come your way today, confirming that you are now entering a cycle of attainment. Keep your eyes open and your schedule flexible, and wear brown to maintain your balance. You'll finally agree to disagree with a friend or family member, putting closure to a conflict that appears, at least at this point in time, to be unresolvable. Your intuitive side will be operating on high under the Libra full Moon, so pay close attention to insights that come your way tonight.

KEEP IN MIND: You're tired of going around in circles, so today, make a decision. Even if you have to change it later, at least that will be one thing off your plate!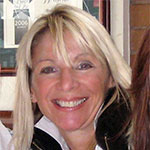 Meet The Artist: The stunning zodiac sign artwork depicted on this page is the copyrighted &copy work of Jody Bergsma. Jody has a diverse painting style that has developed over many years and literally thousands of paintings. Her earliest works were charming children's illustrations that she sold at Northwest art shows to pay for her education. Please take a few moments and treat yourself to the artwork of Jody. Prints, mugs, magnets available. Just click... http://www.bergsma.com