Horoscopes
Daily Horoscopes For Friday October 30, 2020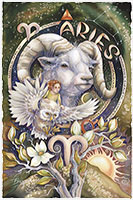 Aries March 21st - April 20th: You'll be ready to reclaim the balance in your life today, so construct a list of the changes you want to make as the first step towards manifesting them. A romantic encounter or harmless flirtation will restore your self-confidence under the charismatic Taurus Moon, but resist the urge to make it more than it is. Carry a few copper pennies with you today to uplift your energy and attract good fortune your way!

KEEP IN MIND: Romance is in the air, but you could fall prey to ego rather than heart-based attention. In the interest of true love, stay close to your spiritual center.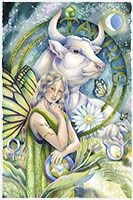 Taurus April 21st - May 20th: The Taurus Moon will have you in front of the computer today, researching your options at record speed. You'll need to put yourself out into the world a bit more, as others may tend to interpret your lack of communication or presence as disinterest. Carry a meteor or fossil stone with you to stabilize your physical movements and help you avoid needless accidents. Someone who has been admiring you from afar could come forward tonight.

KEEP IN MIND: You don't think of it as isolating when you throw yourself into a project with passion, but others do. Take a break and reconnect with friends and family.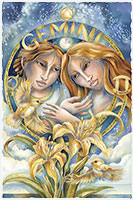 Gemini May 21st - June 21st: People around you tend to move with hidden agendas today, which could throw you off course. Rather than responding out of fear or ego, keep the focus on your own concerns and ignore what they are doing. Carry a few small stones in your pocket, as they can keep you on a steady course when moving through an accident-prone environment. An unexpected phone call will bring wonderful news your way this evening, a gift of the Taurus Moon.

KEEP IN MIND: Focusing on other people will simply limit what you can do for yourself. Be selfish today and ignore them, placing the focus solely on you.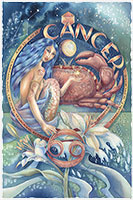 Cancer June 22nd - July 22nd: Research, networking, and high-powered conversations will fill your day, all instigated by the Taurus Moon. Carry a few cotton balls in your pocket to absorb any distractive or negative energies that try to throw you off course. They will also keep you balanced as you dash from one project to another. Stop for a breather midday or you'll run out of steam before an important social event this evening.

KEEP IN MIND: You'll breeze through this informative day with ease, but don't forget to pace yourself!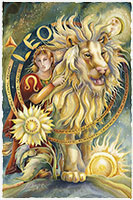 Leo July 23rd - August 22nd: Be steadfast in tackling all the projects that you've avoided over the last few days and get them done! Carry a few pennies in your pocket or wear some copper jewelry to stabilize your movements and protect against accidents. The Taurus Moon will inspire your gift of gab, and you'll find yourself engaged in conversation with most anyone that crosses your path. Health problems that flare up can be contributed to stress; alleviate them by getting to bed early this evening.

KEEP IN MIND: This will be a catch-up day for you, and much to your relief, you'll have a clean slate by day's end.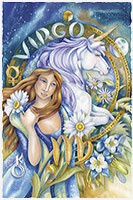 Virgo August 23rd - September 22nd: You'll feel a sense of stability return to your thoughts and movements under today's Taurus Moon, as nagging worries or fears vanish. Trust your instincts when you're introduced to someone new, and then follow up with a little research to confirm the information they give you. Though you love your job, you may feel it's time for a change under the Scorpio Sun. Fill a small bowl with water and use it as a homemade crystal ball during your evening meditation.

KEEP IN MIND: Whether you're dealing with people or information today, use this standard rule: Trust, but verify.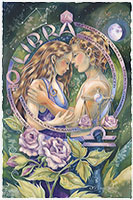 Libra September 23rd - October 23rd: Pause for a moment to review your progress this morning, so you can start your day off with a better idea of where you stand. Spiritual direction will come to you from unexpected sources; pay close attention to any information you hear that's repeated from different sources more than once. Last-minute deadlines could have you working overtime under the Taurus Moon, but you'll be well rewarded for your efforts.

KEEP IN MIND: If you hear the same thing from two different sources, pay close attention. If you hear it again from a third source, act on it!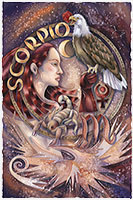 Scorpio October 24th - November 21st: You'll be in top form today, ready to embrace whatever the Scorpio Sun brings your way. Once you've completed your responsibilities, you can take the rest of the day off to focus on your own needs. If you discuss your concerns with a trusted friend or advisor under the Taurus Moon, you'll get a more balanced idea on how to resolve them. Carry a magnet in your pocket or purse today to help you attract more love, money, and success your way.

KEEP IN MIND: Give yourself permission to start the weekend a little early today; there's no point sitting at your desk till the clock strikes five when there are so many other things you'd rather be doing!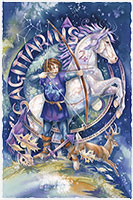 Sagittarius November 22nd - December 21st: You'll be on a fact-finding mission today, and the Taurus Moon will help lead you in the right direction. Your thoughts are light-years ahead of your body, which could cause you to move in erratic ways or misplace items in your haste to get things done. Carry a small packet of salt or sand in your pocket to ground yourself and help you navigate the shifting energies of the day. Your love relationships will take priority tonight; turn off the television and engage in a cuddle fest!

KEEP IN MIND: It would be nice if your body could catch up with your head today, but since it can't, move with caution!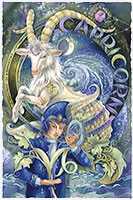 Capricorn December 22nd - January 19th: You should carry a small piece of petrified wood or a pond stone in your pocket or purse today, as they'll help you keep both feet on the ground while your head dances in the clouds. Spend some time researching a major purchase, as the information you discover will empower you to make the wisest choice, and, get it at the best price! Meditate about the future under tonight's Taurus Moon; new ideas about how to bring your dreams into reality are sure to emerge.

KEEP IN MIND: Bridging the gap between idealism and realism isn't as hard as you think. With the right amount of research, you'll find it easy to access your heart's desire!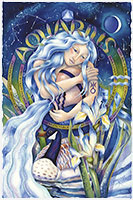 Aquarius January 20th - February 18th: The Taurus Moon will fortify your efforts to move in more balanced and productive ways today. Immerse yourself in creative or humanitarian activities, where you'll be well rewarded for your efforts. Carry a four-leaf clover or rabbit's foot to sidestep misfortune, as you're a bit accident prone today. Your manifestation powers are at an all-time high under the karmic Scorpio Sun; take advantage and practice some creative visualization tonight.

KEEP IN MIND: You're on a lucky streak today, so trust your intuition and follow your heart.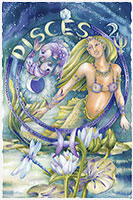 Pisces February 19th - March 20th: Copper can help you avoid a needless accident, so carry a few pennies in your pocket to create an extra layer of protection around you. The Taurus Moon will encourage togetherness, so invite your loved ones to join you in a group activity. Meditate on ways to create more balance in your daily routine tonight. Your goal? To have more personal time and still be able to get to all the responsibilities you need to accomplish.

KEEP IN MIND: Yes, life is busy, and your loved ones tend to all run in different directions today; insist they stop and enjoy some family time tonight.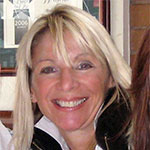 Meet The Artist: The stunning zodiac sign artwork depicted on this page is the copyrighted &copy work of Jody Bergsma. Jody has a diverse painting style that has developed over many years and literally thousands of paintings. Her earliest works were charming children's illustrations that she sold at Northwest art shows to pay for her education. Please take a few moments and treat yourself to the artwork of Jody. Prints, mugs, magnets available. Just click... http://www.bergsma.com