Horoscopes
Daily Horoscopes For Monday August 10, 2020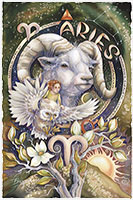 Aries March 21st - April 20th: Go ahead and express your individuality under today's Taurus Moon, moving from the heart rather than what others expect of you. Following the advice of others is not working for you, so stick to your own special way of getting things done. A guided meditation can help you to release a painful experience from the past that crops up this evening. You'll find yourself coming to the aid of others all week long, thanks to the protective nature of your tarot card this week, the Emperor.

KEEP IN MIND: Never mind what other people think; today, do your own thing!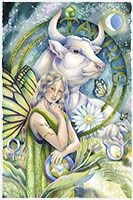 Taurus April 21st - May 20th: You may find it difficult to move in any tangible direction today, thanks to the scattered energy the Taurus Moon will be casting about. There are things going on behind the scenes that are contributing to a coworker's negative attitude; practice patience and empathy. Reserve some time for yourself this afternoon to rebalance your world, physically as well as emotionally. Your tarot card the Magician will teach you how to transform a negative situation into an amazing opportunity this week.

KEEP IN MIND: If you made a plan this morning, delete or toss it in the trash, as it's nowhere near what the Universe will have you doing today.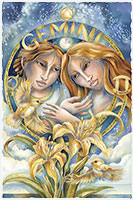 Gemini May 21st - June 21st: The Taurus Moon will affirm that all is right with your world today. Continue to move with care where money is concerned, so you'll have what you need to get you through the financial ebbs and flow of this week. Indulge in a creative project or extra meditation this afternoon, either of which can restore your spiritual balance. Your tarot card the Hierophant will help you stay on the straight and narrow this week, as you sidestep temptation to align with its message of order and discipline.

KEEP IN MIND: Resist the urge to act on impulse and stay on the straight and narrow; that way, you'll end the day feeling like you've been super productive!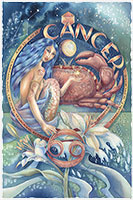 Cancer June 22nd - July 22nd: The Taurus Moon will shift your focus from current struggles to a more optimistic future today, as it reveals new paths you can take to attain your goals. Stop midday for a spontaneous meditation; that way, you'll find it easier to maintain your balance when things go sideways this afternoon. A close friend will need your help with a relationship problem tonight, so make sure you're available. Your tarot card the Star carries the power to make your dreams come true this week, so make a wish!

KEEP IN MIND: You'll have very little control over how this day unfolds, but you do have a choice on how you react to it - it's up to you to see the gifts in the chaos.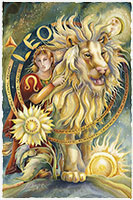 Leo July 23rd - August 22nd: Expect to don your multitasking hat today, as the Taurus Moon will have you scattering in all directions. Think of the day as a big puzzle you're putting together - a few pieces here and a few pieces there. A friend may need your shoulder to cry on tonight; just listen and allow them to share their feelings as they try to process their worries. Your tarot card the World will encourage you to release the past and prepare to move boldly into the future this week, dreams in hand!

KEEP IN MIND: You usually have all the answers, but today, let others come to their own conclusions.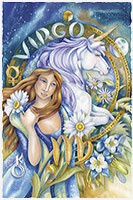 Virgo August 23rd - September 22nd: Your reputation speaks for itself, so it's no wonder others turn to you for financial or emotional direction. Today, the best way to help them is to share your experience and then let them come to their own conclusions. Whatever you're shopping for is available on the internet, so research it under the Taurus Moon and you're sure to find it at a discounted price! Remember to keep your eye on the big picture and trust in Spirit as your tarot card Justice moves you forward with fairness and balance this week.

KEEP IN MIND: With the money you save shopping online tonight, you'll have enough left over for a second indulgent purchase!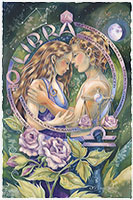 Libra September 23rd - October 23rd: This could be a stormy day if you've been neglecting your responsibilities, as others will be quick to point it out. Emotions run high and could result in short tempers or impatience under the Taurus Moon, so keep your wits about you. Tonight, make a list of the conflicts you've encountered, and then take a closer look to determine your part in each situation. Your tarot card the Hanged Man will encourage you to go inward this week to access the answers you seek.

KEEP IN MIND: This could prove an annoying day all around, so stick close to Spirit and ask for intuitive direction.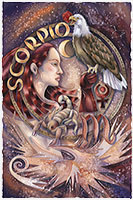 Scorpio October 24th - November 21st: The Taurus Moon will empower all your efforts today, whether they be solo or joint ventures. Under this influence, you'll find yourself moving in tandem with your feelings and intuition, rather than facts or figures. Rearrange your office or home to create more flow of movement and inspire new thoughts to emerge. You'll want to weigh a decision carefully before you eliminate something or someone from your life, so meditate with your tarot card Temperance tonight, and let it be your guide.

KEEP IN MIND: You've got a spiritual "flow" problem going on; rearrange the furniture and clear out clutter to create a clearer channel to the Divine.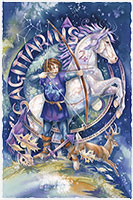 Sagittarius November 22nd - December 21st: Your practice of unconditional love will create healthier relationships and more intimate connections under today's Taurus Moon. People may tend to move in unmotivated or ethereal ways, so you'll need to be patient with those who don't carry your sense of responsibility or drive. Proceed with caution, as needless accidents are likely to occur. Your tarot card the Hermit will insist you give yourself some alone time over the next few days, to relax, meditate and get in touch with your inner spirit.

KEEP IN MIND: Everyone will seem to be moving in opposing directions today, so keep on your toes and "watch out for the other guy!"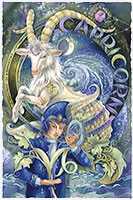 Capricorn December 22nd - January 19th: The Taurus Moon could have you putting your foot in your mouth if you speak without the facts, so double check your information before sharing it with others. A friend needs your support now, and though it will be hard not to offer direct advice, listening is the best gift you can give them. Pay close attention to your intuition and dreams over the coming week, as prophetic insights will be many, thanks to your tarot card, the High Priestess.

KEEP IN MIND: You'll be a walking oracle this week as your tarot card the High Priestess fills your heart and mind with amazing spiritual insights.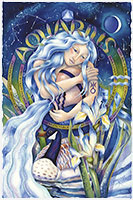 Aquarius January 20th - February 18th: You're apt to leap before you look under today's Taurus Moon, so be sure to temper your movements to avoid unnecessary accidents or upsets. The best way to get centered (and remain that way) is to map out a plan of action for the day and try not to vary from it. If you release the need to know what the future holds and focus on living in the moment, everything will run much smoother. Use the power of your tarot card the Chariot to move through any blocks or illusions that pop up this week.

KEEP IN MIND: There's no need to get ahead of yourself today - if you do, you'll just have to backtrack tomorrow.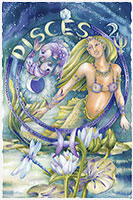 Pisces February 19th - March 20th: The Taurus Moon starts casting new information about, and suddenly, the answers to your burning questions will appear! You'll find a little extra cash when you clean out a closet or drawer, though an unexpected expense could claim it before you have the chance to spend it. Your energy levels will be on the rise all week long, a gift of your tarot card, the Sun. You can counteract worry or anxiety by increasing the time you spend in meditation this evening.

KEEP IN MIND: This is one of those "aha" days when you'll finally get the direction you've been seeking. (Makes all that worrying you did last week seem pointless, doesn't it?)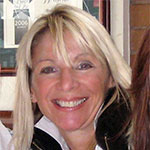 Meet The Artist: The stunning zodiac sign artwork depicted on this page is the copyrighted &copy work of Jody Bergsma. Jody has a diverse painting style that has developed over many years and literally thousands of paintings. Her earliest works were charming children's illustrations that she sold at Northwest art shows to pay for her education. Please take a few moments and treat yourself to the artwork of Jody. Prints, mugs, magnets available. Just click... http://www.bergsma.com