Daily Archives:
October 5, 2022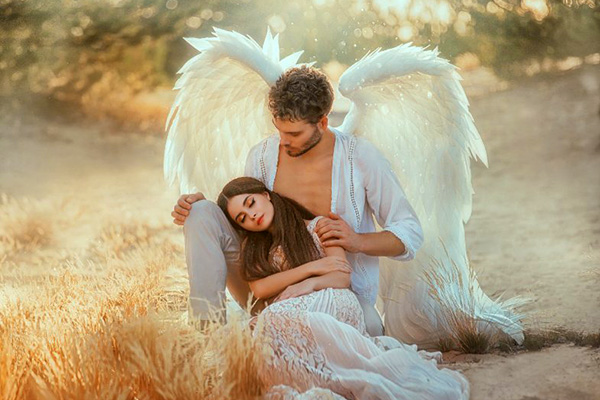 The people I consult with in my work as psychic reader are often going through a difficult period in their lives. Many feel abandoned, helpless, frustrated and alone. For some a relationship has ended, or a job has been lost, or a loved one has passed away unexpectedly. The first message that the angels usually relay to me in these readings is: "Tell them that they are not alone."
Angels are here to support, guide and comfort us in our daily lives, not to live our lives for us, or make decisions on our behalf. We grow in strength, wisdom, character and self-esteem when we face and overcome challenges. There are many stories of angels intervening in life-threatening situations, which is wonderful. This phenomenon has been well-documented.
Over the years, I have seen time and time again that some of the key primary purposes of the angels in our lives is to remind and reinforce for us that we are not alone; we can and will overcome the challenge that is in front of us at the moment; and we can link back into the best part of our hearts, which is where our true strength lies. It is that part of us which they hold sacred for us.
They have known us since before we were born, and continue to watch over us as we go through triumph and tragedy. They are ever vigilant, always cheering us on, guiding us with signs and messages towards our highest good. They are unwavering in their belief in our ability to rise to the full expression of our heart's desire in this life.
The angels are friends to us all, regardless of beliefs or dogmas. Truly they are here to serve. More often than not they are subtle and their voices come through in feelings of comfort, love, peace, or a very deep sense that a course of action we are about to embark on is either joyous, or dangerous.
They are not our judge, nor jury. They are always our advocates, without question. While they cannot interfere in the consequences of our choices, they can support and help us heal, learn from our choices, and create more happiness and success.
Posted in

Angels, Life Design, Metaphysics, Spirit Guides, Spirituality
|
Tagged

abandonment, adversity, angel, angel guidance, angel messages, angel protection, angel readings, angel signs, angels, archangel, beliefs, challenges, dogma, emotional challenges, frustration, gratitude, guardian angel, guidance, life challenges, life design, life lessons, loneliness, psychological challenges, respect, self-expression, service, signs, soul purpose, spirit guardians, spirit guidance, spirit guides, spirit messages, spirit realm, spiritual counseling, spirituality, support, unconditional love
|
Leave a comment