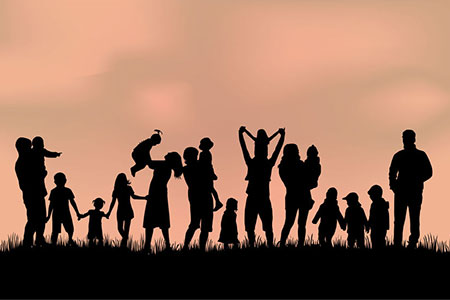 When I was younger, I actually searched for my birth certificate, just to see if I really was a member of my family! I've witnessed some close-knit and very loving families among my friends and acquaintances, which I admire and applaud. But not everyone is that fortunate. It seems some of us are thrown together in families we cannot help but wonder where we all fit in. For many of us our family and romantic relationships are complicated.
We typically grow up seeing perfect families on television and in the movies. We also observe them during summer vacations and winter holidays. But I have always preferred the exceptions to the rule, the alternative families, the dysfunctional, weird and wonderful family stories, because they portray real life with humor.
Growing up my family did the best they could with what they had and what they knew at the time. In our family there was much avoidance, secrets, Catholic school and the constant overhanging threat of being 'sent to a nunnery.' Role-models for how to build healthy, constructive I did not have. So, I had to figure it out on my own, making many mistakes along the way.
I have even attributed my sense of not belonging in my family to the planets: my Aquarius Sun sign and Sagittarius Rising sign. I assumed my tendency to be a bit of a star child, moving to the strange music in my own head, just needed its own space? Upon a closer look, as the years went by, my father and I had many similar traits, with some of my mother's mixed in on the spectrum.
I was constantly searching for that next subject to study and different ways to escape through my imagination. I also closed down when people came too close and moved along as quickly as possible.