Embrace Your Endless Possibilities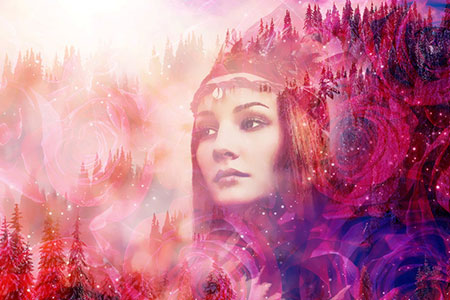 No matter how psychic we are (or think we are), we are not! We all have a lot more to develop and learn. The possibilities of the Universe are endless, and so are we. When I just begin to think about this, it becomes truly mind-boggling. There are a lot more to us than most of us realize. Only the end of each lifetime, when we cross over into the spirit realm, do we really comprehend the true purpose and potential of our chosen life paths. Until then the wise thing to do is make a real daily effort with our spiritual practice and personal growth.
I have been dealing with some physical health problems in recent years, but I refuse to think of myself as ill. I am constantly working on myself psychically, while I am also physically following the doctor's advice. I just do what I have to do. A wisdom I must share is that when we are physically unwell, we should never just rely on the spiritual or metaphysical. We must also rely on our medical doctor and other professional healthcare providers. Modern medical science is a gift from God and we must use it in our lives for our highest good. Science and spirituality works hand-in-hand.
I have also been working on past life healing a lot lately using both meditation during the day, and dreamwork at night. Before I sleep, I ask my higher self or subconscious self to reveal information to me about my former lives, while I am in the dream state. It is fascinating. You know how we dream and forget the dreams when we awake? Well, those dreams seem to hang in our memories, and they come up in our memories throughout the day.
Recently, I dreamed of a busy, happy lady, walking through food markets, and all kinds of crowded markets. She looked like she was wrapped in a beautiful violet fabric. I saw a mark on her third eye. She was smiling, waving hello to everyone! Everyone was calling her "Anika." I swear I never heard that name before, but it did seem like it might have been my name in a former life. I will continue to work on this; I guess my higher self feels it's time for me to learn more about her.
Spiritual maturity is neither instant nor automatic; it is gradual, progressive development that will take the rest of your life ~ Rick Warren
I really do believe that the more we learn about ourselves and others, while in the physical body, the more progress we make in our spiritual evolution and enlightenment. – for ourselves, but also for others.The Buddha said "imagine that every person in the world is enlightened but you. They are all your teachers, each doing just the right things to help you learn perfect patience, perfect wisdom, perfect compassion."
I also believe that those of us who are on the psychic path have a mission to help humanity to progress for the greater good. This may not always answer the usual questions of "does he or she really love me," but it may just guide you more powerfully to your true loves or soulmates, and your inner bliss, joy, happiness, true fulfillment, and so much more. Best of all, it may just ultimately guide you to our eternal highest good. Make the commitment today to embrace more of your endless possibilities.

About The Author: Gabrielle-Claire

Gabrielle-Claire is a spiritualist psychic reader who channels the messages her Guides provide. She is also a gifted psychic healer who has studied with some of the finest metaphysical teachers, including a renowned healer of the Aquarian Foundation. Through her connection with the evolved souls of her Guides and Ascended Masters, she is able to put all of her numerous skills and gifts to great use, providing answers and healing energy to clients, and helping them to find their own hidden talents and abilities. You can have a life-transforming reading with her today at PsychicAccess.com.