On The Wings Of The Angels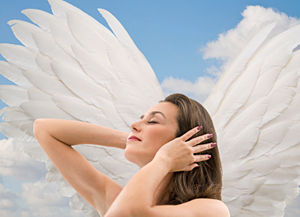 Many people that I speak with in my work as psychic reader are often going through a difficult period in their lives. Many feel abandoned, helpless, frustrated and alone. For some a relationship has ended, or a job has been lost, or a loved one has passed away unexpectedly.
Many times the first message that the angels relay to me during readings is: "Tell them that they are not alone."
Angels are not magical beings with wands they wave to make things all better. They are creatures of service, love, support and protection. They always answer when called upon, but our hearts must be open to receive their comfort, protection and support. Many people call them spirit guides, which is fine. The label is not important; it is the message that matters.
Angels descending, bring from above; Echoes of mercy, whispers of love ~Fanny J. Crosby
The more pain someone is in, be it emotional, financial or physical, it never fails that I see the angelic realm very strongly around them. To surrender to the presence of these beautiful beings, and to allow yourself to be bathed in their healing, loving energy, is a profound and powerful experience
Angels are beings of unconditional love. There is no judgment, no condemnation in their nature. They have known you before you came to be in this time and place, and they will be with you when you depart. It is your choice and your responsibility to acknowledge them, communicate with them and allow them to be present in your day to day life. They love nothing more than to be called upon to do what they were created to do….serve.
About The Author: Angelic Heights

Empathic, intuitive, psychic from a very young age, Angelic Heights (Gail) learned well the importance of using her gifts for the highest good. Marriage and a career in the paralegal field occupied her until her early 30's. Accurate, compassionate and direct, her focus now is entirely on enlightening, uplifting, inspiring and guiding those who seek her counsel. Get a reading right now with her at PsychicAccess.com


Posted in

Afterlife, Angels, Metaphysics, Spirit Guides, Spirituality
|
Tagged

advice, angel, angel readings, Angels, anxiety, beings, communication, death, family, guardian angel, guidance, Healing, job, lifetime, loneliness, pain, psychic protection, psychic reading, Psychic Readings, reading, relationship, Spirit Guides, spiritual advisor, spiritual messages, spiritual realm, Spirituality, stress, time, unconditional love, worry
2 Responses to On The Wings Of The Angels
This site uses Akismet to reduce spam. Learn how your comment data is processed.