Mental Mediumship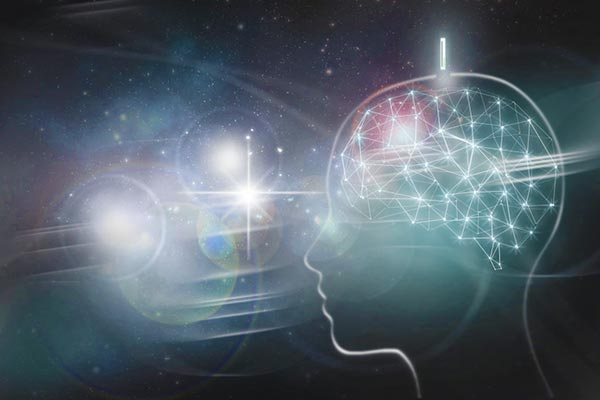 There are two forms of psychic mediumship: physical and mental. Physical mediumship is instead the manipulation of energies and energy systems by spirits. This type of mediumship is involves physical manifestations that can be observed by others, such voices; tapping, raps and other noises; apports (materialized objects), and materialized spirit apparitions.
Mental mediumship however only utilizes the mind and is purely mental phenomenon. Forms of mental mediumship include perceptions of clairvoyance (seeing), clairsentience (sensing), claircognizance (knowing), clairaudience (hearing), clairempathy (feeling), clairolfaction (smelling), clairgustance (tasting), clairtangence (touching), inspirational speaking, automatic writing, and energy healing. These mental aspects express more of the personality of a medium than the physical aspects, as all thoughts come through the mind of the instrument.
The sending and receiving of thought vibrations by the human mind has been known to man since the dawn of time. Telepathy and psychokinesis have also been extensively studied in parapsychology. I believe the thought vibrations sent out from the human brain take on form and persist in the ether after the individual sending them has forgotten all about them.
These thought waves have the ability to interact with the thought waves of others that come within the same range of vibration. In other words, like attracts like. A person thinking thoughts of a certain nature will attract to themselves from the ether thoughts of a like nature that have been sent out by other individuals.
Each individual is a sending and also a receiving 'station,' all attuned to a unique frequency or rate of vibration. As a result, it is best to send out those kind of thoughts that will attract to us only similar thoughts of a constructive nature.
In order to attune to the thoughts and feelings of spirit, I raise my vibrations higher through meditation and, in turn, spirit has to lower its vibrations somewhat ~ James van Praagh
As a medium I also know that the mentality of the individual persists after the change called 'death.' The human brain dies, but the spirit mind does not die, for it is eternal. I also know that it is possible for the mind to develop the ability to contact thought vibrations sent out by other-world minds or entities, and to then transmit them to their loved ones on earth.
Mediumship is therefore also is a matter of vibrational attunement or adjusting one's energy frequency, as well as the cultivation of higher spiritual consciousness. Vibrations of thought sent out by spirit beings are of a higher range of vibration because they are not weighed down by material things; so the medium must raise her vibration to form a point of contact with those in spirit.
A pea-sized gland called the pineal gland is located in the the human brain directly above of the spinal column.  The esoteric concept of the 'third eye' originates from this small neuroendocrine gland's primary function of secreting melatonin. This hormone contains light-sensitive cells that control our circadian rhythm or  'sleep-wake cycle.' I believe this organ is like the receiving set of a wireless apparatus and therefore acts as a receptor.  I further believe attuning oneself to the vibrations of spirit is done through this gland.

About The Author: Mountain Sage

For thirty-six years, Mountain Sage has been providing her much sought after insight, coaching and spiritual counseling to clients locally, as well as internationally. Many other psychics, spiritual counselors and healers, professionals, celebrities, and individuals of all backgrounds, have relied on her gifts to find their way through muddled times. Mountain Sage is the student of an exalted Gurugi in Bombay, and Shaman of the Fireheart Sweat Lodge in Santa Fe, New Mexico. Her extensive training includes Oracle, Healing, Universal Laws & Principles, the Sacred Circle and Psychic Shielding. She specializes in Ascended Masters, Altars, and Minerals. She holds the great honor of Oracle Carrier by her tribe due to her outstanding psychic ability, passion for the psychic realm, integrity and sacred work. She blends mystical understanding with practical application, and her art is connecting with the Divine. Get a psychic reading with Mountain Sage at PsychicAccess.com.


This site uses Akismet to reduce spam. Learn how your comment data is processed.