Cards Facing Down Enhances Readings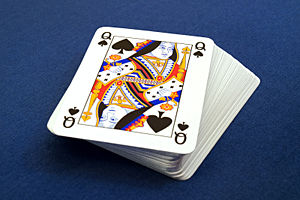 When I do psychic readings with playing cards, I try to be creative with them to help me to open up my psychic abilities even more.
You may ask how anyone can use an ordinary deck of playing cards, instead of the Tarot or oracle cards to do readings. I can feel the energy by looking at the cards to get the 'vibes' off of them when I do a reading.
When I was younger I used to give readings to friends, and I discovered the cards can give off a very strong energy if they are face down. When I am guided by my spirit guide, or when my psychic abilities kick in, I feel a heat or I feel my hand will be drawn to the cards.
I usually do a 15 card spread and I would close my eyes and slowly go over the cards. The positive cards would give off a heat and I would slowly go over the whole deck until the 15 cards are all done. At times I may get the 16th card as a 'good luck' card, and nine time out of ten times I usually pick up a face card of the person in question, or a court card of that person I was reading.
Sometimes I sit and look at life from a different angle ~ Tupac Shakur
In personal readings I would have them give me a item that belong to them and I would hold it for a small time and pull the energy off that item, and I would do the same with the cards. After I gave them a reading that way, I would give them another reading that is the same reading I use when I am doing phone and video chat readings on Psychic Access. It is a five card spread of three rows, and I do it to prove a point on the accuracy of the cards that where face down.
About The Author: Raymond

Growing up on the streets of Columbus Ohio, Raymond learned at a very young age that he was gifted in many ways, including the ability to read someone's eyes and using a regular deck of playing cards to read the future! His mother was from a Native American family, namely the Black Foot tribe, and his father was German. Raymond discovered that both sides of his family had a psychic legacy. Over the years he has gained additional knowledge from books and by talking to trusted family members. Raymond has been doing psychic reading for others for over 3 decades, and over the years he gained many loyal clients from all walks of life. Visit Raymond for a reading at PsychicAccess.com