Surrender To Spiritual Growth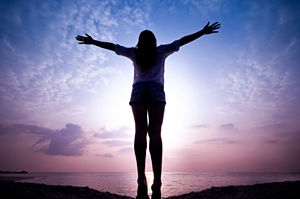 I could share so many stories about times I thought I said, or did the 'wrong' thing, while I was doing psychic readings or energy work, only to find out sometimes months later that what I was guided to say or do was exactly what was needed, even if at the time the situation didn't look the best.
When we allow Spirit to guide us, and if we stop trying to control results, life takes miraculous turns. When we try to take care of everyone and every situation, we can become control freaks and our human solutions are always so limited compared to what Spirit provides.
When we come from a place of surrender and guidance, we are free to follow the magically twisted path of Spirit, that seems to handle every detail far better than we could have ever imagined. Situations that seem to baffle us get easily resolved. Horrible circumstances are removed in ways we could not have planned, and new people come to us through round about ways that we could never have anticipated.
The greatness of a man's power is the measure of his surrender ~ William Booth
Psychic and mediumship readings can help you to relax and trust, which in turn helps you to let your Guides, Spirit, your Higher Self finally get through to you and point you in the right direction towards spiritual growth. A psychic or medium can only speak to your level of consciousness, so often you will only hear what you need to hear at that time, until you have bigger realizations. Then you can hear more, raise your consciousness and your horizon broadens.
Having a spiritual practice will help you develop your own intuition and give you the courage and strength to follow the Guidance given to you.
About The Author: Nonna

Nonna lives in Southern California, and is a professor of psychology and a teacher of psychic development, energy work and meditation, who has recently finished her PhD. She has been a counselor for both humans and animals for thirty years, removing energy blocks through her expertise in the spiritual arts. She also has numerous years of study and practice with classic psychological therapeutic models, family work, twelve-step processes, nutritional and body/mind/spirit healing, complementary, alternative, and quantum medicine. Nonna is brilliant at unearthing the gems in every client's soul and polishing them to a fine finish. To release your own soul's sparkle, contact Nonna at PsychicAccess.com.


This site uses Akismet to reduce spam. Learn how your comment data is processed.