Solar Storms Affect Mood, Energy And Behavior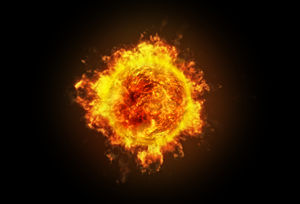 Psychic reading is a powerful spiritual tool to help us approach, understand and deal with life. However, sometimes we have environmental factors that can affect us, which we might wrongly attribute to a psychological or spiritual issue.
It is a good idea to make sure when something affecting us that it is not possibly environmental, because we need to deal with that first so we are balanced enough to progress spiritually. A good example of external, natural phenomena that may affect our well-being are solar storms.
Powerful solar storms have been rolling into our atmosphere in recent years, as per the National Aeronautics and Space Administration (NASA) warnings. Some people are extremely sensitive to the electromagnetic field (EMF) emissions that these storms generate and can experience symptoms like depression, mood swings, erratic behaviors, and migraines to complete immobilization.
The sun is waking up from a deep slumber, and in the next few years we expect to see much higher levels of solar activity ~ Richard Fisher, NASA
If you find yourself reacting to its effects, there are solutions. Magnetic therapy can help for mild symptoms. It is readily available over the counter at your local pharmacy.
Stronger magnets, 1100 Gauss for example, might be needed by some and you would have to shop around to find magnets of this strength. These can be used by sitting on them, facing the North Pole with your body, or placed on the soles of your feet while sitting. Be very careful to keep all magnets away from your computers and other appliances, or they will wipe the hard drive. If you are having very severe reactions, you might have to look into more sophisticated solutions.
NASA has published information that solar storms have been growing in strength and will probably reach its climax by 2013, culminating in some of the biggest solar flares seen in 150 years. If you are a highly sensitive person, please start to pay attention to the effects of these solar flares on your well-being. You can sign up for emails on solar flares at spaceweather.com.
About The Author: Nonna

Nonna lives in Southern California, and is a professor of psychology and a teacher of psychic development, energy work and meditation, who has recently finished her PhD. She has been a counselor for both humans and animals for thirty years, removing energy blocks through her expertise in the spiritual arts. She also has numerous years of study and practice with classic psychological therapeutic models, family work, twelve-step processes, nutritional and body/mind/spirit healing, complementary, alternative, and quantum medicine. Nonna is brilliant at unearthing the gems in every client's soul and polishing them to a fine finish. To release your own soul's sparkle, contact Nonna at PsychicAccess.com.