Clairsentience – The Gift of Sensing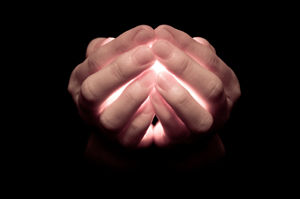 If you ever host a dinner party for a group of psychic mediums, and you need a good conversation piece, clairsentience is one of those topics that is sure to get the party started!
The gift of clairsentience is a complex concept that is sometimes misunderstood, despite the fact that it is an ability shared by most psychics, mediums and highly sensitive people. Clairsentience is often also the first psychic ability to surface in gifted children.
Clairsentience is a very general term, and therefore not easy to define, because it covers a much wider range of psychic experiences, compared to, for example, clairvoyance (seeing) or clairaudience (hearing).
Clairsentience means clear feeling or psychic somatosensation, and it refers to a variety of 'sensing' and 'feeling' experiences, including  psychological traits, 'gut feelings', physical sensations, paranormal occurrences and even medical symptoms. For this reason you may find that the experiences reported by one clairsentient will differ greatly from that of another.
It's often just enough to be with someone. I don't need to touch them. Not even talk. A feeling passes between you both. You're not alone – Marilyn Monroe
Furthermore, clairsentience is also confused with some of the other, lesser-known psychic abilities, such as clairescence (smelling) and claircognizance (knowing). Although these psychic abilities may manifest along with the gift of clairsentience, they are not one and the same thing.
Most psychics and mediums have a combination of extra-sensory abilities which, apart from the sensing or somatosensation, may include clairvoyance (vision or seeing), clairaudience (audition or hearing), clairolfaction (olfaction or smelling), clairgustance (gustation or tasting), claircognizance (knowing). Additionally, some experts also prefer to identify two "sub-senses" within the realm of clairsentience, namely clairempathy (emotion or feeling),  and clairtangency (tactition or touching).
To clarify what clairsentience really is, it is best to define the different types or categories of clairsentient experiences:
Prophetic or Precognitive Clairsentience
Prophetic clairsentience is closely associated with precognition and intuition. This form of clairsentience manifests as 'hunches', 'gut feelings' or premonitions. The clairsentient experiences an inner knowing or intuitive feeling, without any apparent reason or any verifiable facts.
What sets it apart from claircognizance, is that this 'knowing' is accompanied by some form of sentience, namely feelings or physical sensations.
Claircognizance, in contrast, is the possession of intrinsic knowledge without an accompanying feeling or sensation. It is the ability to know something spontaneously, without any physical explanation why you know it. You simply know something, like you would know which way to turn on the hot water tap in your bathroom.
The best and most beautiful things in the world cannot be seen, nor touched …but are felt in the heart – Helen Keller
A typical example of prophetic clairsentience is something most people can relate to, namely the 'twitch' or 'knotted' feeling you get at the pit of your stomach when you have a foreboding that something good or bad is going to happen.
Some of my personal experiences include a feeling of being pushed forward or held back, which usually means that in the near future there will be positive movement forward in a specific situation, or that it will be delayed.  I also feel physical sensations of heat or cold, which is an indication for me that something will indeed happen or not happen.
When I have ominous forebodings, they are often accompanied by 'chills', nausea, or a feeling of heaviness in my limbs, while positive premonitions are sometimes accompanied by lightheadedness or 'goose bumps'.
Clairempathy or Emotive Clairsentience
This phenomenon is also known as feeler clairsentience or empathic ability. It refers to the ability to sense or experience the feelings and emotions of other people. Some clairsentients also experience this with animals, and even with plants.
Empaths have this innate ability to sense emotional energy vibrations and feel what others feel –  simply by being near people or being in a 'highly charged' environment. Empaths sometimes have no idea where these sudden feelings are coming from, or why they feel affected. For this reason many empaths avoid crowded, noisy places and emotionally toxic environments.
I see your beauty. I hear your need. I feel your feelings. My wisdom flows from the Highest Source. I salute that Source in you. Let us work together for unity and love – Mahatma Gandhi
The psychic empath has the ability to be directly and consciously in tune with someone's emotional state, to the point of physically feeling the emotions of the other person. This is also known as clairempathy, and it involves a much deeper knowing and direct experiencing of another person's feelings, thoughts and personality traits, without any prior knowledge of the person, their background or their circumstances.
When I connect with a client during a psychic reading, I immediately know how they feel and what their state of mind is. In my youth I used to be an energy sponge on legs, absorbing a lot of negativity around me. I had constant mood swings, I was overwhelmed by cruel and unkind vibrations, and I could never understand why I felt compelled to avoid public places.
Fortunately, I discovered the truth about my empathic nature, and learned ways to shield myself and stay in alignment with Source energy. These days I still allow other's feelings and energy vibrations to penetrate.  But I only allow the bare minimum to filter through, just enough for me to do my work.
Clairtangency (Psychometry)
Clairtangency is the gift of 'clear touching'. Also known as 'psychometry', it is the process of reading energy imprints or sensing vibrations that are attached to or emanating from an object, such as a piece of clothing, jewelry or a photograph.
Psychics and mediums, who work in the field of criminal investigation, often use their gift of clairtangency to access the feelings, thoughts or physical location of the person connected to such an object. Clairtangents typically use the palms of their hands to read objects.
Psychometric reading is also done on physical locations, such as reading the energy residue inside a building or on a piece of land.
Somatic or Physical Clairsentience
Somatic clairsentience is the sensing of physical symptoms. It can be very uncomfortable and even disturbing, especially for people who do not know how to control or interpret these sensations. Somatic clairsentients experience aches, pains, discomfort and other medically-related symptoms. This is a rare gift that is very useful in the work of some medical intuitives and energy healers.
Somatic clairsentience is often enhanced by physically touching the person. Experienced clairsentients usually only feel these symptoms for a brief moment, long enough to take note of it and use it in their work.
As a child I had many unpleasant experiences of a somatic nature, and I often felt sick or uncomfortable in the presence of people who were ill or diseased.
One of my most vivid memories is an experience I had at a pantomime performance, when I was a young boy. I sat next to a girl who was about my age and she had a broken arm in a cast. I will never forget the discomfort I felt for the duration of that show, as well as the numb, aching pain I felt in my arm for days afterwards!
I had no idea why I felt these things; to avoid it I consciously began to block these sensations out, which caused me to lose much of my original ability by the time I reached adulthood.
Paranormal or Spiritual Clairsentience
This is one of the more intriguing forms of clairsentience, which involves physical sensations of a paranormal nature. These sensations are typically experienced by psychic mediums when sensing or communicating with non-physical beings or spiritual entities.
Typical examples include:
'tickling' sensations in different areas of the body, especially the face and hands
pressure on the crown of the head
'chills' or 'goose bumps'
sensations of being touched
temperature changes or cool breezes
hair 'standing on end', especially on the back of the neck
physical trauma or blows to the body (very rare)
emotions, thoughts, memories and physical sensations
Something I often experience is the sensation of pressure on the top of my head, also known as the area of the crown chakra. I experience this daily when I communicate with my angels and spirit guides, and also when I make contact with other psychics or very spiritual individuals, who have a high energy vibration.
I sometimes also experience pressure or 'movement' in the other chakra areas, especially when I do psychic readings. And when I feel a dramatic drop in temperature in the room, I usually know that the energy or 'spirit' of a deceased person is coming through with a message for someone.
© 2010 Anthon St Maarten
Anthon was interviewed on the subject of the 'Clair Senses' by Psychic Viewpoint on Psychic Access Talk Radio during two broadcasts on August 11, 2011 and October 27, 2011. To listen to the archive recordings visit Anthon's guest page at Psychic Access Talk Radio.

About The Author: Anthon St Maarten

Anthon St Maarten is an international psychic medium, intuitive consultant and destiny coach. He has been consulting professionally as psychic medium since 2004 and has since established himself as a trusted advisor to many people all over the world. He is also a sought-after inspirational speaker, metaphysics teacher, radio personality, spiritual author and blogger, with a special interest in New Thought spirituality, metaphysics, parapsychology, mediumship and psychic phenomena. He is best known for his bestselling practical spirituality book Divine Living: The Essential Guide To Your True Destiny You can get a psychic reading from Anthon at PsychicAccess.com


34 Responses to Clairsentience – The Gift of Sensing