Think Twice Before You Act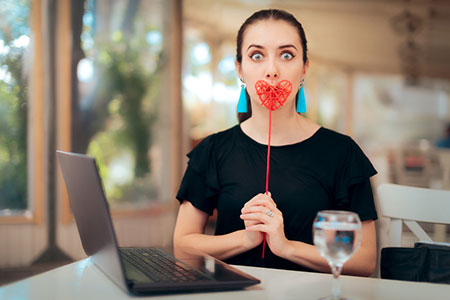 I often meditate to cleanse myself of residual psychic energy accumulated after a challenging week or two, or even after a long day of doing many psychic readings. When a psychic reads for someone they are not only reading for that one person, but also for everyone involved in a particular situation or in the client's thought process. Thus, after doing several readings a day you can imagine the energy build-up!
During these cleansing sessions I tend to contemplate the highlights and low points of the day. The same questions usually come up for me. Why do some choose not to listen? Why do some people insist on only hearing what they wish to hear? Why do some folks ask for guidance when they don't truly care about what Spirit has to say? Why does someone choose to get a reading, only to hear what they want to hear and not truly listen to what the psychic or medium is conveying to them? I have yet to receive the answers to these questions, either from Spirit or from any living person.
Sadly, this lack of openness to spiritual messages even goes as far as the client trying to lead the reader into answering very private questions about another person they hardly even know. They may have just met this person or they may have crossed paths for one brief instant. Why wouldn't they allow that magic to just develop naturally, as opposed to prying into a person's personal life to try and find out all about them? You lose something inherently personal when you do this: your mind!
If Spirit recommends that you allow a little time to pass, before contacting the new person in your life, why would your immediately begin to text or direct message that person? I'm not sure why anyone would do this to themselves? I've seen so many instances of people impatiently doing what they shouldn't be doing, thereby bringing suspicion or tension into a romance that has barely had any time to grow or bloom – much less take root.
You can't force the energetic field or the Universe to make someone love you when that's not the path of their vibration or destiny. There is no magic potion you can make them drink that will all of a sudden make them have cartoon love hearts in their eyeballs for only you ~ Sarah Prout
We have to let time take its course. We have to allow our hearts and minds some room to detach from the predicted outcomes of a psychic reading, and allow destiny to unfold on its own accord. Because when we interfere prematurely and meddle in the affairs of Spirit, we change the course of fate…and usually not for the better. I've seen many potential relationships fall apart because of inaccurate assumptions and premature actions. I've witnessed people receiving wise guidance in a reading and then choosing to act in the exact opposite direction – only to return later and question the reading they originally received.
Always ask yourself if you really should make that call to your new love interest? Is right now the best time to send a seemingly incongruous text message to a new friend or leave inappropriate comments on their social media posts? What are you doing it for? What are you expecting in return?  Because that is the true kicker. If you take any action because you are expecting a certain result, be prepared for possible disappointment. We can only control our own free will, not that of others. And Spirit always knows best how to make things happen for our highest good. Think twice before you act. Some things need to happen as they must happen. You will not regret it.

About The Author: Indigo

Indigo lives in the Pacific Northwest, her considerable gifts going back many generations, traveling along the matriarchal line. She has always listened to the inner voice of her Guides, and began what would become her higher life's calling as early as tweenhood. Though her inner talents were always powerful, Indigo remains highly active in the outer world, particularly her community, nurturing and feeding her treasure trove of knowledge through study and practice. For 10 years, Indigo ran her own business, servicing 10 or more clients at a time. She's worked on the very best psychic phone lines and websites, honing her craft, and relaying important messages through the snapshot images she receives. She employs many tools, such as Tarot, Astrology, Numerology, to name but a few, and has mastered disciplines that include Shiatsu Reflexology and Touch Therapy. Indigo is a practicing Wiccan for 30 plus years. She's helped find runaway children, assisted clients with PTSD, sexual abuse, bipolar disorder, and abandonment issues. Her personal breakthrough with trauma linked to past-life incarnations eliminated negative blockages holding her back. Her own inner work has afforded clients the same great opportunity to release their own blockages and to find the peace and happiness they crave.
You can get a reading from Indigo at PsychicAccess.com


This site uses Akismet to reduce spam. Learn how your comment data is processed.