Parents Pay Attention To Your Children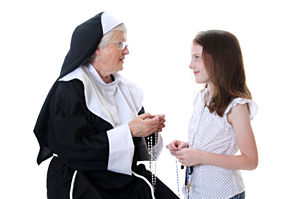 I have always been so-called psychic, since I was a baby…and before.
I have past memories of watching my mother in the kitchen, before I was born. I remember being in our back yard, in the area of our grapevine, before birth. It is so strange a thing to explain to someone who is not psychic-oriented.
When I was five years old I started Catholic school. One day when the nun called my name I acted silly, like a 'stripper' of all things, and sauntered up to her desk. She was a young nun and she had a good laugh. All of the kids in the class  were jumping up and down on their desks, and to say the least it was funny! I ended up being chosen as the first person to be in a special ceremony to crown the Virgin Mary in a May celebration. I did many more psychic things to help some of the kids in my class that year.
If we were TV sets, some of us would only get five channels. Others are wired for cable (the general population) and some of us (the gifted) are hooked up to a satellite dish. That makes these gifted children capable of making connections that others don't even know exist! ~ Elizabeth Meckstroth
My teacher was Sister Mary Mathews, and she did recognize what I was all about! I guess what I am saying is meant as a message to parents: pay attention to your children, because they could be conveying to you some very special intelligence or past life memories.
For the record, I do not remember being a stripper in a past life.
About The Author: Gabrielle-Claire

Gabrielle-Claire is a spiritualist psychic reader who channels the messages her Guides provide. She is also a gifted psychic healer who has studied with some of the finest metaphysical teachers, including a renowned healer of the Aquarian Foundation. Through her connection with the evolved souls of her Guides and Ascended Masters, she is able to put all of her numerous skills and gifts to great use, providing answers and healing energy to clients, and helping them to find their own hidden talents and abilities. You can have a life-transforming reading with her today at PsychicAccess.com.