Finding Strength In Adversity
Published
October 7, 2011
|
By
Shani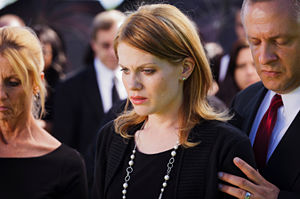 The concept of 'finding strength in adversity' has been on my mind constantly since coming home last week from a stage appearance by the well-known psychic medium John Edward.
We all hear about tragedies on a regular basis, but in the space of just two hours during the show, I witnessed stories from people who were still standing, despite their ordeals. These were true life stories of individuals who had been through the most painful, life-changing experiences.
One particular incident involved a lady who appeared to be in her mid-thirties. John Edward initially came to her with a general message from her father, concerning sisterly altercations. He was joking about how 'hot-headed' each sister had been concerning petty issues.
Times of great calamity and confusion have ever been productive of the greatest minds. The purest ore is produced from the hottest furnace, and the brightest thunderbolt is elicited from the darkest storm ~ Charles Caleb Colton
Then John became very serious, suggesting that this woman's first husband was difficult to divorce, while the second left of his own accord. But the story-line was more sinister. This lady's second husband had not only taken his own life exactly two years prior to this reading, but also the lives of her sixteen month old baby and older children. And there she was, still standing with such inner strength.
John's comforting words were that her father had the deceased little ones in his care and that she should no longer contemplate taking her own life, as there was another man coming into her life with children who would need her motherly love.
There were also those in the audience who had been affected by violence themselves, or lost loved ones to violence. Some of the stories sounded like events that only happened in the movies. And yet, there all these people were – still standing.
In my experience victims are more concerned with helping their families understand that they are still connected to them. In some rare experiences information comes through that helps understand what happened ~ John Edward
What John was able to help them with was indisputable evidence that their loved ones were fine now, and how the circumstance of their passing was actually more traumatic for those had been left behind. For some, he reassured that the passing of their loved ones was so swift, that they hadn't even realized they'd reached the other side, until they viewed their wrecked vehicle or body from the other side of the veil, in spirit.
These are but a few examples of people in that audience who have endured the most agonizing adversity, and as much as many more would have liked a message from spirit that night, spirit was determined to give certain individuals some light and hope.
So, what is the 'growth through adversity' in a case like the lady in question? What I do know is that it will have affected everyone in the audience, as well as John Edward – he was at a total loss for words for quite a while.
In my working situation as a professional psychic, I feel such empathy for people and their loss and pain, yet it is important to be a support system, instead of taking on their particular journey in a personal way.
About The Author: Shani

Shani is a qualified practitioner in Reiki, aromatherapy, reflexology, body spin, and animal telepathy who received psychic development training at the Arthur Findlay College of Psychic Research in England. A published writer, her articles and predictions have appeared in several respected magazines and on psychic websites, and she has read for many celebrities and even heads of state in Africa. Though she was born in London, Shani has traveled the globe and has studied the art of African Mysticism, bringing her unique flavor to those seeking her incredible talents. Get a reading with Shani at PsychicAccess.com.


Posted in

Afterlife, Empath, Mediumship, Metaphysics, Paranormal Phenomena, Psychic, Psychic Phenomena, Spirituality
|
Tagged

Afterlife, Children, clairvoyance, crossing over, death, divorce, Empath, family, famous psychic, ghost whisperer, grief, inner peace, inner strength, journey, life lessons, loss, love, marriage, medium, mediumship, motherhood, pain, paranormal, Paranormal Phenomena, power, professional psychics, psychic medium, psychic reading, Psychic Readings, sadness, spirit, spiritism, spiritual messages, spiritual realm, spiritualism, spouse, suffering, suicide, The Other Side
One Response to Finding Strength In Adversity
This site uses Akismet to reduce spam. Learn how your comment data is processed.