The Spiritual Power Of Embracing Change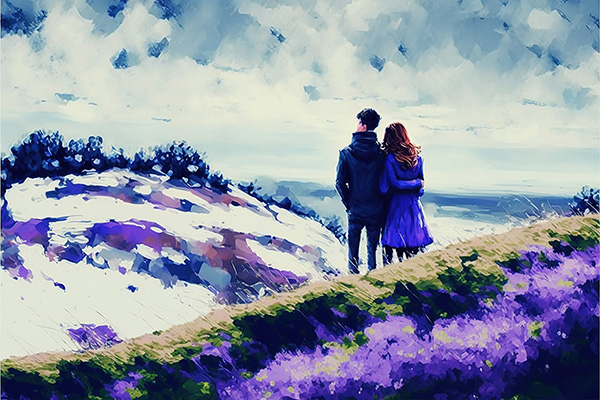 My husband and I have recently made a life-altering decision to embark on a new adventure. While we initially considered our current location a dream come true, we have since encountered numerous obstacles that led us to increasingly question our path.
Through some divine guidance and intervention, and our unwavering trust in our inner voices, we finally decided to take the leap and embrace the change that has been beckoning us. Our intention is now to pursue a more spiritually fulfilling life, in which art plays a significant role.
Our journey of listening to our inner guidance, nurturing our creative spirits, and opening ourselves up to abundant possibilities, has been interesting, to say the least. Several significant signs and synchronicities guided us to this turning point in our lives.
A Dream Meets Challenges
Our current home once seemed like a perfect paradise for pursuing our creative dreams. However, despite our best efforts, the narrow-minded local community and limited opportunities hindered our artistic expression.
We have faced much rejection, disappointment, and even prejudice. As artists we have been feeling stifled here, while deep within our hearts we know that our artistic expression is meant to flourish in an environment that celebrates and supports our talents.
If you don't feel it, flee from it. Go where you are celebrated, not merely tolerated ~ Paul F. Davis
Signs And Synchronicities
The more we were questioning and yearning for a more artistic, spiritually fulfilling life, the more the Universe began weaving a web of synchronicity. Remarkable individuals and surprising information entered our lives, connecting us to new communities and opportunities. These new acquaintances recognize and celebrate our artistic abilities, and embrace our unique perspective. It was as if the Universe conspired to present us with a empowering new path that aligned our creative aspirations with our spiritual growth.
Trusting Inner Guidance
Trusting spirit and listening to our intuition was paramount in making this life-altering decision. Despite the setbacks and obstacles we have encountered, we held onto the belief that there was a place where our artistic dreams could bloom.
God, Spirit, Source, the Divine has guided us towards our new path – one that resonates with our deepest desires and allows us to fully express our creativity. By following our inner guidance, we aligned ourselves with the abundant possibilities the Universe has in store for us.
Embracing Destiny
As we now prepare to embark on this new chapter in our lives, we recognize that the decision to relocate is not just about physically moving to another place. It is also a profound spiritual and artistic journey of expansion and self-expression.
We are moving to a place where our creative spirits can truly soar, with an open-minded community who will welcome our unique talents and artistic endeavors. By resettling in an environment that fosters both spiritual and artistic growth, we can finally build a life of greater fulfillment and boundless creative opportunities.
Sacred blessings and divine opportunities appear in your life disguised as unforeseen changes and challenging circumstances ~ Miya Yamanouchi
The Power Of Change
As we step forward into the unknown, we are choosing to embrace the transformative power of change, and we are determined to authentically express our artistic passion.
We also accept that challenges may arise along the way, but we trust in our ability to overcome them with divine guidance. Such challenges usually serve as catalysts for further transformation and growth. By surrendering to the flow of the Universe and fully embracing our artistic calling, we align ourselves with our true purpose and invite abundance and fulfillment into our lives.
This journey has taught us the importance of trusting our inner guidance, persevering in the face of adversity, and finding a place where our artistic dreams can truly thrive. May our story inspire you to listen to your inner voice, embrace change, and fearlessly pursue a life of artistic abundance and spiritual fulfillment.

About The Author: Runa

Runa is a reader with unique gifts and she, herself, is a gift that keeps on giving to others and her community. She is spiritually, artistically, and creatively talented, nourishing her soul through selfless work with incarcerated teens and through her reading practice in Germany and with clients around the world. She is a Rune expert, a Reiki Master, a gifted oracle reader, accompanied always by her Northern Light Guides, present at every reading. Along with her compassionate, direct truths and the non-judgment readings she offers, Runa provides positive energy that relieves burdens and reveals a pathway to future goals. From early on, she could read the energy of those around her, but her study of ancient runes and symbols opened a book for answers to assist and guide others along their path. Runa has read for over 20,000 clients from all walks of life, and for many corporate clients, as well. She owns her own reading praxis in Germany, where she lives with her husband and beloved cat, "Monster." For 15 + years, she's inspired, enriched, and emboldened the lives of adults and teens, helping them to fearlessly embrace and creatively express themselves to achieve their dreams. If you'd like a reading from this extraordinary Rune goddess, you can find Runa at PsychicAccess.com