My Shared Death Experiences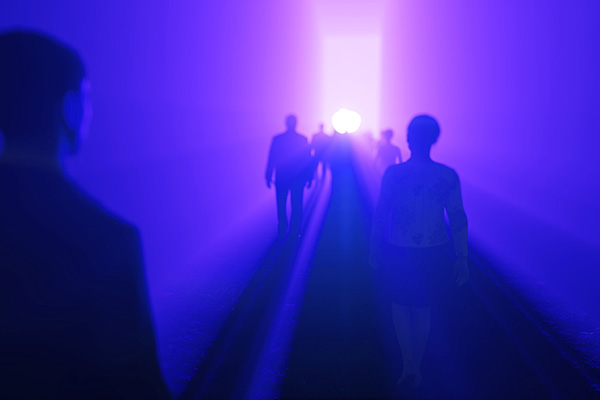 After a near-death experience at the age of 20, my perception of reality shifted in remarkable ways. The most significant development was that I somehow became attuned to the experiences of people transitioning to the afterlife, also known as a Shared Death Experience (SDE).
I have since had several astonishing SDEs that offered me rare glimpses into the mysteries of life and the spirit realm. These esoteric encounters revealed to me how our consciousness, choices, and beliefs in this life shape our ultimate journey beyond the physical.
A shared death experience, also known as 'shared passing' or 'shared crossing,' is an end-of-life paranormal phenomenon in which relatives, caregivers, or sometimes even compassionate strangers, share in a dying person's transition experience.
In my experience, SDEs are diverse and highly unique for each dying person, but they typically share one common feature, namely that I do not only see a vision of the person at the moment of dying, but also of them being happy, safe and joyous in the afterlife, after they have passed.
Surrounded By Love
My first SDE was when I was working at an adult care facility. One of our residents was under hospice care. As she gracefully transitioned from this world to the next, an overwhelming sense of love permeated the room.
It was a love that transcended individual connections, manifesting as a universal force enveloping her being. In that sacred moment, I witnessed the convergence of divine energy, as if her consciousness was dissolving into supreme love itself. It confirmed for me once again the interconnectedness of all beings that I first experienced during my NDE.
I am Spirit, formless and free. Whatever I think, that will I be. ~ Richard P. Goodwin
A Dream of Angelic Presence
The night a friend's husband passed away, I had a vivid dream in which I saw my friend's husband, illuminated by a radiant light and standing before a majestic throne. The throne was like that of a deity, as described is some religions. Towering angelic beings, as large as city buildings, surrounded him, emanating an overwhelming sense of peace and comfort.
My Father's Joyful Reunion
When my father's health began to decline some years ago, my husband and I moved in to help care for him, and to spend time with him during his final days.
The night of his transition, I was awakened by the cheerful sound of my father laughing out loud. Although he had been very ill and weak for some time, his laughter exuded the energy and vitality of a healthy, strong man.
Upon opening my eyes, I beheld an astonishing sight. My father was sitting at the head of a seemingly endless table, surrounded by a multitude of people. Laughter filled the air and happiness radiated from every person present. My father was engaged in lively conversation, his spirit alive and vibrant.
I Can Only Imagine
When my brother-in-law passed away, I experienced a different aspect of SDEs. As he neared the end of his life, an overwhelming urge compelled me to play the song I Can Only Imagine by the Christian rock band MercyMe.
In that poignant moment, a vision unfolded before me. I saw Jesus Christ extending his arms to embrace my brother-in-law. With profound tenderness, Jesus lifted him up and carried him into a radiant, eternal light.
This experience showed me the diverse, unique nature of SDEs, as each experience apparently highlights the particular individual's consciousness and their personal spiritual beliefs.
Those who are afraid of death will carry it on their shoulders ~ Federico García Lorca
A Loving, Bright Light
When a dear friend tragically lost his life in a motorcycle accident, I witnessed a captivating scene. I saw him stepping into a luminous light, guided by unseen hands, where he was warmly greeted by a gathering of loved ones and spirit entities. The outpouring of love and support during his transition served as another testament to me of the interconnectedness of souls beyond the physical realm.
Through these and other SDEs, I have come to understand that our consciousness and personal spiritual development ultimately shape our transition to the other side. Each experience clearly reflected the individual's preferences and beliefs, no matter which religious or spiritual framework they were rooted in during their lifetime.
The uniqueness of each transition that I was privileged to witness, underscores the profound impact our karmic choices and worldview have in shaping our consciousness beyond this life. Our spiritual beliefs and soul growth achieved during our time on Earth ultimately mold our crossing-over journey into the afterlife.
Our consciousness shapes the reality we experience, both in this life and the next. We are constantly shaping our destiny and our daily reality with our  thoughts, feelings, choices, and deeds – including how we will experience our departure from this world into the next.

About The Author: Cosmic Coach

Cosmic Coach (James) is a Christian Minister, a teacher and an Energy Guide. He has been seeing and talking with Angels and Guides since he was 7. As a teen, it dawned on him the unique connection he had. He prayed for others at his family's Christian church, and received direct messages and healing energy from Spirit. As a young adult, he became ordained and is still attached to the Christian Church today. After mentoring with a remarkable psychic woman, he developed his own tools and began his full-time psychic practice. James has mastered many techniques in his psychic practice to connect with the unique heart center of each of his clients. He is a Reiki Master of many traditions, who is adept at crystal healing, card readings, and delivering detailed messages from Angels and Guides. James is always expanding the base of his knowledge to broaden his reach and serve as many clients as possible. To experience a unique reading personally designed for you, you can find Cosmic Coach at PsychicAccess.com.