Grounded And Centered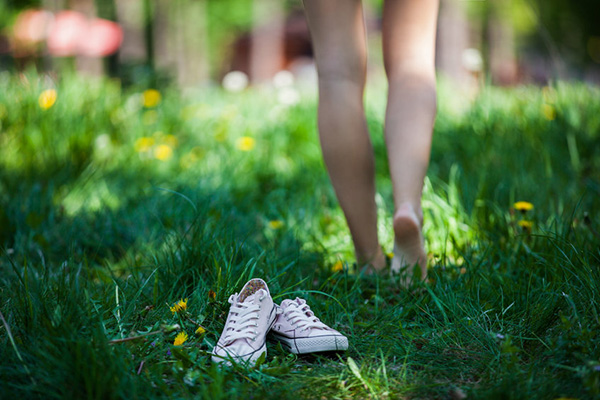 We've all heard the terms 'grounded' and 'centered,' but do we really know what they mean? Do you ever have days when you feel like a part of you is a step or two behind the rest of you? Do you ever feel 'hungover' even though you know you didn't close the bar the night before? Do you ever have a disconnected feeling? Any of those is a sign that you're not grounded.
If you're anything like me, you can't process information or participate in the discussion going on around you. There are even times I just stare blankly at the wall, the TV or the person who's trying to talk to me.  At times, I will have arrived at an appointment and not remember driving there, but since the police aren't there, I must assume I didn't break any laws.
Grounding, for each of us, is personal. Some people smoke. Coffee can keep you pretty grounded too. I prefer using more harmless methods. An easy way to re-ground is to sit or stand on earth, and just breathe.  As you breathe in, imagine the earth coming up through your body to your head. As you breathe out, release the tension in your shoulders, back and neck. Breathe fresh air in, and toxins out. Slow down, take a few minutes to anchor yourself in this plane. I use this one a lot when I am doing touch therapy or after a hard reading.
Centered is felt in the solar plexus, when you're centered, you're in balance, your insides match your outsides and there is a sense of knowing what's going on. There's also a sense of confidence that radiates from inside to out.
To re-center sit or stand up straight, align your hips with your shoulders. With your projective hand place the three fingers right below your sternum while allowing your other hand to hang loosely at your side.  Relax your shoulder and neck muscles. Take three or four deep breaths releasing tension with each exhale.
Walk as if you are kissing the Earth with your feet ~ Thich Nhat Hanh
There are essential oils and stones that will help keep you grounded and centered. Sandalwood helps control that agitated sense as well as grounding you. Myrrh is protective as well as grounding. Hematite and jasper are very powerful in keeping you grounded. It's easy to put a ring of hematite on or a wire-wrapped stone on a cord or chain and both stones are pretty.
As you practice, it will get easier to get there. Of course, it's always better not to get disconnected or off-centre, but there are simple ways to get back to being yourself again.

About The Author: Indigo

Indigo lives in the Pacific Northwest, her considerable gifts going back many generations, traveling along the matriarchal line. She has always listened to the inner voice of her Guides, and began what would become her higher life's calling as early as tweenhood. Though her inner talents were always powerful, Indigo remains highly active in the outer world, particularly her community, nurturing and feeding her treasure trove of knowledge through study and practice. For 10 years, Indigo ran her own business, servicing 10 or more clients at a time. She's worked on the very best psychic phone lines and websites, honing her craft, and relaying important messages through the snapshot images she receives. She employs many tools, such as Tarot, Astrology, Numerology, to name but a few, and has mastered disciplines that include Shiatsu Reflexology and Touch Therapy. Indigo is a practicing Wiccan for 30 plus years. She's helped find runaway children, assisted clients with PTSD, sexual abuse, bipolar disorder, and abandonment issues. Her personal breakthrough with trauma linked to past-life incarnations eliminated negative blockages holding her back. Her own inner work has afforded clients the same great opportunity to release their own blockages and to find the peace and happiness they crave.
You can get a reading from Indigo at PsychicAccess.com