The Goddess Energy Of The Sacred Feminine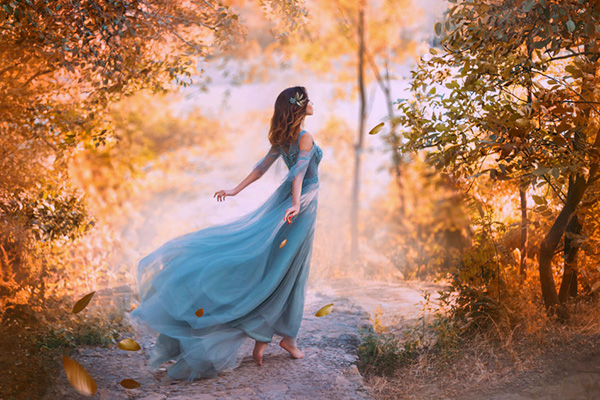 Many people assume the sacred feminine is a concept relevant to women only.  This is not true at all.  The sacred feminine is a way of living for everyone, and a reorientation of how we move through life.
In his book Power vs. Force, author David R. Hawkins explores the intrinsic energy that is fundamental to all of life – an eternal power that is not driven by ego, will, or forceful means, but rather by a natural flow, like we see with the sacred feminine.
If you think of a goddess archetype, such as Kwan Yin, there is a gentle flow of energy that outpours from her, and yet there is an immense power in the dragon she rides! In Chinese Buddhism, Kwan Yin is an icon of compassion, kindness, mercy, and love.
Recognizing the gentle power of the divine feminine comes down to resistance.  Is there a natural flow that is working in harmony for the greater good, or is there an extreme push with no regard to anyone else's well-being with what is trying to come through the power in a given situation?
The latter of the two may bring about success for an individual or small group in the short-term, but what about the long-term impact? How will this show up karmically, or affect the greater good down the road?
When there is a strong desire to create something and it is met with resistance, those in touch with the sacred feminine tend to be more patient and will enter a state of receptive stillness and assess the situation from a viewpoint of loving kindness and wisdom.
The sacred feminine is quiet and gentle, but it does not mean one who lives like this is a 'dishrag' who acquiesces to everyone else's needs and demands. Nor is it choosing to never go after a strong desire, or holding back full effort to win a tennis match!
She unleashed her inner goddess and became the woman her soul knew she could be ~ Michelle Schafer
One of the greatest qualities the sacred feminine has to offer is the nurturing, sustenance, and mothering of the Great Mother Goddess.  Some of us were raised by a mother who was nurturing and loved us unconditionally, and some of us were not.  Whether we were or not, there is the Great Mother Goddess who loves us all, with our flaws, for our mistakes, and even for forgetting about her.
She is an all-loving goddess who offers the great invitation for us to remember to love ourselves first. If we choose to overlook self-love and self-care to please others, or are unable to find forgiveness for ourself or others, she waits patiently for us to 'get it.' And until we do, she holds the door open until the very last of us walk through, to awaken from our frenzied state of forceful, resistant living.
There is goddess energy in all of us. It is called the sacred feminine.

About The Author: Isadora

Known as The Psychic's Psychic, since 1998, Isadora has read for thousands all over the world, her impressive list including clients from the Obama administration, Fortune 500 CEO's and notable names in Hollywood. Her detailed (Gemini) accuracy is nothing short of astounding, with her ability to see people at the Soul Level and clearly answer questions on a wide range of subjects, from relationship matters, business decisions, to past lives, etc.—anything that requires clear answers and pin-point insight. She has the ability to identify hidden patterns that run beneath your current situation, providing you with information to positively change your future. If you'd like a reading with this compassionate, straight forward, laser-accurate and dedicated Psychic, you can find Isadora at PsychicAccess.com.