The Trust Of A Broken Heart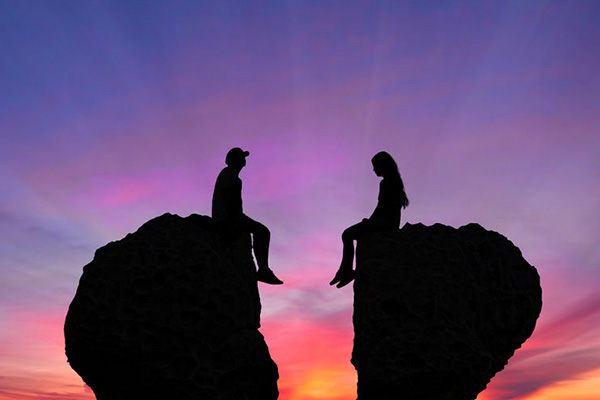 Many years ago, I met a man at a social event and we hit it off right away. We became good friends. He was from a small town and worked as a long-haul truck driver.
He would sometimes pick me up to keep him company while he was running errands or we would just hang out. I also helped him with filing his taxes and other personal documentation. But as much as he trusted me with his money, he could not trust me with his heart. After a couple of years, our relationship became more intimate and physical. Yet, even then, the emotional commitment 'wall' was there.
He met his ex-wife while she was working at a truck stop in an even smaller town. They married and had a child. Everything was apparently 'sunshine and rainbows' for a while, until she decided to go back to work.
In time, he discovered that she had been cheating on him with several other men. He disclosed to me in a vulnerable moment one night that the worst part was that everyone in town they knew about it – except him. They lived in a small community, where everyone knows everybody's business. He was understandably humiliated and heartbroken. His disappointment eventually turned into hatred and bitterness. Due to all the local gossip, he even had to quit his job, which also added to his anger.
Soon after this discovery, I went through a major upheaval in my own life, which led me to terminate all my relationships to focus on my family. Once I had my personal situation back on track, I tracked him down.
His response to my reaching out was to simply tell me that we no longer had anything to say to each other. Then he told me to take care and have a good life. He wasn't very nice about it and there were even a few expletives in there, but whatever.
Trust is a very delicate area and needs to be built over time. Any one act can destroy faith which takes years to build ~ Rachel Venturini
A few years ago, intuition prompted me to reach out to him once again. I had no idea why, but I have learned over the years that when spirit speaks, I just do it. I do not question.
To my shock and dismay, I located him on the social security death index. So, I contacted a mutual friend and asked her if she knew anyone who might know what happened to him. She got back to me a few days later. Apparently, he went back on the road again. One day, he had a heart attack and passed away alone.
A couple of weeks ago, he came to me in a vivid dream visitation. It was him in every way. It looked like him, smelled like him, sounded like him, felt like him. It was him.
He wrapped me in his arms and whispered, "I loved you. You know that."
In order to establish trust, it is first important that you be trustworthy. This means you should be forthright with all your dealings ~ Paul Melendez
When I woke up, I was really confused. Even frustrated and angry. I mean, why now? After all this time, why? I spent some time meditating on it and what I got from it was this:
I believe he was letting me know that if I had given him more time, it might have ended differently. If I just remained more patient and did not suddenly abandon our friendship, then our relationship had a good chance of turning out the way I had wished it to. I should have given him more time and space, without imposing so much expectation he was not ready to bear. I should have gone with the flow and just been there for us.
The trust of a badly broken heart is very slow earned.

About The Author: Indigo

Indigo lives in the Pacific Northwest, her considerable gifts going back many generations, traveling along the matriarchal line. She has always listened to the inner voice of her Guides, and began what would become her higher life's calling as early as tweenhood. Though her inner talents were always powerful, Indigo remains highly active in the outer world, particularly her community, nurturing and feeding her treasure trove of knowledge through study and practice. For 10 years, Indigo ran her own business, servicing 10 or more clients at a time. She's worked on the very best psychic phone lines and websites, honing her craft, and relaying important messages through the snapshot images she receives. She employs many tools, such as Tarot, Astrology, Numerology, to name but a few, and has mastered disciplines that include Shiatsu Reflexology and Touch Therapy. Indigo is a practicing Wiccan for 30 plus years. She's helped find runaway children, assisted clients with PTSD, sexual abuse, bipolar disorder, and abandonment issues. Her personal breakthrough with trauma linked to past-life incarnations eliminated negative blockages holding her back. Her own inner work has afforded clients the same great opportunity to release their own blockages and to find the peace and happiness they crave.
You can get a reading from Indigo at PsychicAccess.com