Protect Your Aura With White Light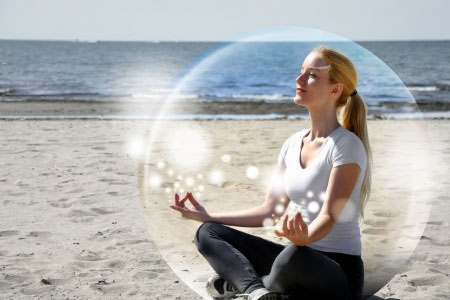 The human aura is a fascinating subject and there is much to know about our aura. The aura is our personal energy field or 'subtle body.' Clairvoyant psychics and energy healers often have the ability to see the aura. What interests me especially is how we affect each other with our auras.
We go out into the world every day, and there are constant positive and negative energy vibrations emanating from others' auras, as well as from our own. We do not realize how much we are affected by these energy frequencies and imprints, and by the same token, how much we affect other beings with our own energy patterns.
To manage the effect of other people's auras on our psychic health and well-being we must learn to draw in the White Light of Spirit and immerse our total being in this protective, healing light. It is most ideal to visualize this a few times a day.
You can do it by placing yourself into a giant egg shaped field of protective light, or an energy bubble. Visualize it as an orb of the brightest white light you can possibly imagine. When I do this exercise I also bring the light in towards my chest and anchor it within my heart chakra.
By doing this kind of daily meditation or visualization exercise you can actually bring wonderful things into your life. It is a wonderful way to embrace the Law of Grace in your daily life. This law teaches us that if you send and give unconditional love, kindness and generosity to others, you will receive the same in return. You are spreading this wonderful God energy to others, and affect their lives in a positive way. They come into contact with you, and wonder as they are walking away, how come they feel so good!
White light is the most robust protection light out there. White light not only blocks out all lower energies from interacting with your aura, but it also blocks out all energy from interacting with your aura ~ Amanda Linette Meder
Also, if your aura is a source of much love and light in the world, you will attract more of the same towards you from people with the same kind of energy. So, it is really worth looking into. You can literally change your life into the positive and happy existence that we are all meant to live. We are all children of God, and this is one of the great ways to realize this.

About The Author: Gabrielle-Claire

Gabrielle-Claire is a spiritualist psychic reader who channels the messages her Guides provide. She is also a gifted psychic healer who has studied with some of the finest metaphysical teachers, including a renowned healer of the Aquarian Foundation. Through her connection with the evolved souls of her Guides and Ascended Masters, she is able to put all of her numerous skills and gifts to great use, providing answers and healing energy to clients, and helping them to find their own hidden talents and abilities. You can have a life-transforming reading with her today at PsychicAccess.com.