Your Future Is A Divine Garden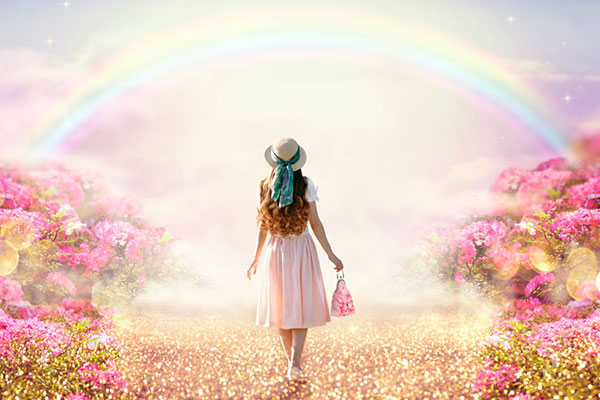 True psychic reading is descriptive, not predictive. It relays what is revealed in the energy. It is not a conclusive fortune-telling of what is definitely going to happen in the future. But what is in the energy can indeed offer information for the future. It is about destiny, not fate.
Gardening is a good analogy to describe this 'predictive' energy. Seeds planted in the earth are unseen, but truly there. They are not visible to the naked eye from the surface. Seeds are hidden beneath, teeming with life. They hold the parts and potentials of an entire existence to unfold. But their process takes time. There is a period that it appears inactive from the outside, yet there is something magical stirring and germinating within it. Within every seed there is life force; an encapsulated vitality undergoing a natural evolution toward its next stage…long before it can be seen.
Similarly, energy is present beneath the surface of our ordinary awareness. It is as a subtle substance, quality, or force to yet shaped into physical form. It is there, a reality, pulsating, before it makes its presence known. There is an organic movement and process that occurs within it. In its own time and way, it moves, morphs, and takes shape.
As different seeds hold different varieties of plants to be, so do energies hold their own distinctive qualities also. Each has unique attributes that could be compared to the distinguishing features of form, texture, color, fragrance, species, and so on. Therefore, the energy of loss is noticeably very different than the energy of joy, like an apple seed is very different from a sesame seed.
Planted seeds also do not all sprout at the same time, nor even precisely when anticipated. A lotus seed, for example, can remain viable for at least three thousand years, whereas a tulsi seed generally germinates within one to two weeks. Seeds in the cabbage family, such as broccoli, kale, and lettuce, can come up in just one to two days.
The future holds brightness if His will be done, continue the efforts your zeal has begun. Let God guide you onward, sufficient each day, constantly blessing and leading the way ~ Greta Zwaan
But even then, not all seeds of the same species planted at the same time sprout simultaneously or when estimated. Nor is each seed guaranteed to germinate at all. Some do not and the reasons vary: ground conditions, climate, insects, and nature's course can all influence or change the duration of life and destiny for the individual seed. Ultimately, all causes and effects rest in the hands of divine will.
And so it is with energy. It may take long or short time to emerge. It may come to physical fruition quicker, slower, or exactly within a foreseeable timeframe. But it can also lay in waiting, long beyond imaginable, while remaining viable, but invisible to the ordinary senses. Other circumstances, people, choices, and higher forces can impact the future of the energy forms.
The garden of our life is alive and dynamic, unfolding with the divine pace and timing of God's grace.

About The Author: Lotus Grace

Grace is the epitome of her name, having endured a troubling childhood that paved the way for an adult, gentle, energetic grace that she now delivers to others through the gifts of movement, dance, and through her many intuitive gifts that she shares with her clients. For 30 years, this Hudson Valley, NY State resident has cultivated a unique way of helping others, drawing upon God as her best friend, advisor, and the all-encompassing force that is the bedrock of her faith. Her journey has led her to heal and grow through the mud of life and compassionately support others to do the same. She's immersed in the world's diverse faiths with a core that is deeply rooted in more than three decades of immersion in the spiritual practices and wisdom of devotional lineages. Her inner relationship with God/Spirit has deepened the intuitive sights, sounds, scents, and senses that unfold profoundly when she dances. Since 2004, Grace has run a spiritual healing arts and dance sanctuary, where she intuitively nurtures children, teens, and adults. In her client readings, she taps into her Empathic, Clairvoyant, Clairaudient, Intuitive healing to help clients access the divine guidance they need. If you're searching for a little added Grace, spiritual energy, and the answers you need, you can find Grace at PsychicAccess.com.